Home Page | About Me | Home Entertainment | Home Entertainment Blog | Politics | Australian Libertarian Society Blog | Disclosures
---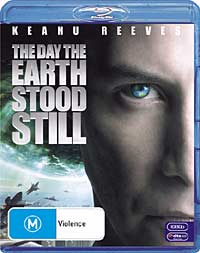 Blu-ray Reviews: The Day the Earth Stood Still
Originally published in Sound and Image, Jul/Aug 2009, v.22#07
Last updated 12 October 2009
---
The Day the Earth Stood Still
2008 - Twentieth Century Fox Home Entertainment South Pacific Pty Ltd
Director: Scott Derrickson
Starring: Keanu Reeves, Jennifer Connelly, Kathy Bates, Jaden Smith, John Cleese, Jon Hamm and Kyle Chandler

Movie:

Picture:

Sound:

Extras:

---
In a review of any movie, and most especially a mystery, one should not reveal its outcome. But I would do no justice to this movie if I kept it hidden.

The driving force of the original 1951 version of this movie was why?

Why did Klaatu and Gort come to Earth. Why did they want to talk to the world's leaders? Why were they demonstrating their power? Why were they prepared to wipe humanity from the face of the earth?

That is also the driving force of the 2008 re-make.

In the original, the alien civilisations had noticed that humans were both warlike and were now threatening to move into space. Their motivation was self-preservation.

In the 2008 version, 'there are only a handful of planets in the cosmos capable of supporting complex life'. Ours is at a 'tipping point' and we have proved incapable of looking after it. Therefore Klaatu shall unleash Gort and wipe us out, whereupon they will tidy up our mess.

Hmmm.

Apparently the producers were sincerish in their environmentalism and the disc carries amongst its making-of featurettes the 14 minute 'The Day the Earth Was Green', which describes how the production employed some environmental auditors to nag them into good behaviour, and how the SUVs they used around the sets weren't evil gas-guzzling SUVs, but saintly gas-gulping hybrid SUVs.

All that is to nought, as any environmental successes that may have been achieved in making this movie must surely be entirely negated by the energy consumed by subwoofers in thousands of homes. For silly though the movie may be, it is on a technical level brilliant.

The visual effects are superb, and the sound is even better. Presented in 24 bit, 48kHz DTS-Master Audio, it surrounds and pummels. Whether that's during the earthly mobilisation at the start, or the swarming nanotech attack at the end, the only limitation on the thrill will be the fidelity of your loudspeakers and the power and extension of your subwoofer.

Despite the undoubtedly more primitive rendition of the earlier movie, you may prefer the Blu-ray version of it (8.1/10 on IMDB) rather than this one (5.6/10). If so, don't buy it from Amazon.com. Twentieth Century Fox, incredibly, has apparently judged an application of Region Code A necessary for a fifty-something year old movie.
---
Facts
Running time: 104 minutes
Picture: 2.35:1, 1080p24, MPEG4 AVC @ 26.60Mbps
Sound: English: English: DTS-HD Master Audio 24/48, 3/2.1 @ 4,033kbps (core: DTS 24/48 @ 1536kbps); French, Italian, Russian: DTS 24/48, 3/2.1 @ 768kbps; English Audio Descriptive, Ukrainian: Dolby Digital 3/2.1 @ 448kbps; Commentary: Dolby Digital 2/0.0 @ 224kbps
Subtitles: English, English for the Hearing Impaired, French, French (Titles), French (Commentary), Italian, Italian (Titles), Italian (Commentary), Russian, Russian (Titles), Russian (Commentary), Ukrainian, Ukrainian (Titles), Dutch, Dutch (Commentary), Danish, Danish (Commentary), Finnish, Finnish (Commentary), Norwegian, Norwegian (Commentary), Swedish, Swedish (Commentary), Estonian, Latvian, Lithuanian
Extras: D-Box Motion Codes; BonusView PIP (480p24, MPEG4 AVC @ 2.003Mbps, no sound); 'Build Your Own Gort' interactive feature; 3 stills galleries (1080p24, MPEG2, 1661 stills); 3 Deleted Scenes (1080p24, MPEG4 AVC, DD2.0 @ 224kbps - 2 mins); 4 Featurettes (1080p24, MPEG4 AVC, DD2.0 @ 224kbps - 81 mins); Theatrical Trailer (1080p24, MPEG4 AVC, DD5.1 @ 448kbps - 2 mins); Trailer for X-Men Trilogy on Blu-ray (1080p24, MPEG4 AVC, DD5.1 @ 448kbps - 1 min)
Restrictions: Rated

(Australian rating); Locked to Regions B and C

The following video bitrate graph was generated by BDInfo 0.5.2: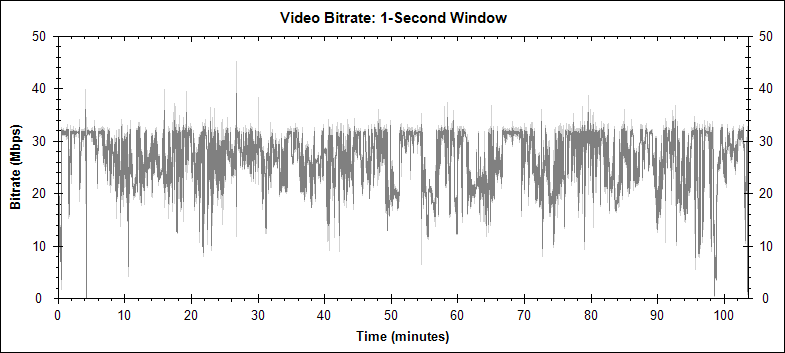 Likewise for this video bitrate graph for the PIP stream: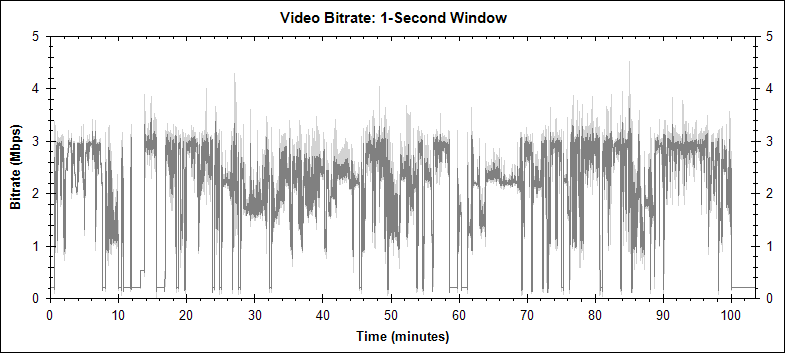 ---
&copy 2002-2009, Stephen Dawson