Home Page | About Me | Home Entertainment | Home Entertainment Blog | Politics | Australian Libertarian Society Blog | Disclosures
---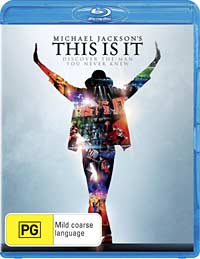 Originally published in Australian HI-FI, May/Jun 2010, v.41#03
Last updated 20 August 2010
---
Michael Jackson's This Is It
2009 - Sony Pictures Home Entertainment Australia
Director: Kenny Ortega
Starring: Michael Jackson

Movie:

Picture:

Sound:

Extras:

---
I am ambivalent about Michael Jackson. If you accept -- as I do -- pop music as a legitimate and powerful art form, Jackson was in his day an artist of the highest order. Unfortunately this was packaged with some occasionally grotesque behaviours.

This movie shows the older Michael Jackson. It depicts his preparations for the 'This Is It' live show, for which some fifty performances had apparently been fully sold. But then Jackson died.

Drag yourself past the opening few minutes during which some of the aspiring dancers speak, with tears in their eyes and catches in their throats, of how Jackson inspired them to dance, and to themselves become inspirations to others. This display of misdirected worship was seemingly filmed even before Jackson passed away.

So get past that, and get into the meat of the movie, because despite my cynicism it brought me around. Jackson the man, the performer, was for the duration of this all business, all performance. Most of the run time was rehearsals, with Jackson fronting the dancers, the band and the backing vocalists. And at 50, he still had the 'It' that I presume was the subject of the concerts. In some of the numbers his dance moves were at 90% in terms of the snappiness and the precision we are used to from the historical Jackson, but these weren't even the final rehearsals, and he was still working things out. Had he lived, this disc makes it plain that his concerts would have been something exceptional. As it stands, most of the numbers on the disc are very near concert level performance.

They are delivered in full 1080p24 for the most part, but since the movie was cobbled together from materials intended primarily as documentation for Jackson's own purposes, there were limitations. But these have been nicely papered over. It's likely that one or perhaps two full HD cameras were available, but these are cut frequently to standard definition material upscaled to about 77% of screen height. The SD stuff is much softer and exhibits camcorder artefacts, but the quick cuts make this seem intentional and interesting.

The sound is superb. I assume that the real concert may have been even better, but it's difficult to see how it could have been.

I normally reserve an 'A' rating for extras where something advanced is provided, such as an inventive use of BonusView PIP facilities, which this disc does not have. It does have some generic Sony BD-Live content, and Sony's 'MovieIQ' feature, also using BD-Live, which provides additional information about selected subjects. But it is the sheer volume of full HD extras -- 172 minutes! -- that makes this score mandatory.
---
Facts
Running time: 111 minutes
Picture: 1.78:1, 1080p24, MPEG4 AVC @ 22.16Mbps
Sound: English: DTS-HD Master Audio 24/48 3/2.1 @ 4303kbps (core: DTS 24/48 3/2.1 @ 968kbps)
Subtitles: English, English for the Hearing Impaired, French, German, Italian, Spanish, Arabic, Danish, Dutch, Finnish, Hindi, Norwegian, Portuguese, Swedish, Turkish
Extras: MovieIQ play mode; BD-Live; 2 'Vignettes' prepared for show (1080p24, MPEG4 AVC, DD5.1 @ 640kbps - 8 mins); 11 Featurettes (1080p24, MPEG4 AVC, DD2.0 @ 192kbps - 169 mins); Interactive slideshow with speed control (100 stills, 1080p24, MPEG2); Trailer (1080p24, MPEG2, DD5.1 @ 640kbps - 3 mins); 7669 Test Patterns (1080p24, MPEG2 - 1 min); Bookmarks
Restrictions: Rated

(Australian rating); Region Free

The following video bitrate graph was generated by BDInfo 0.5.3: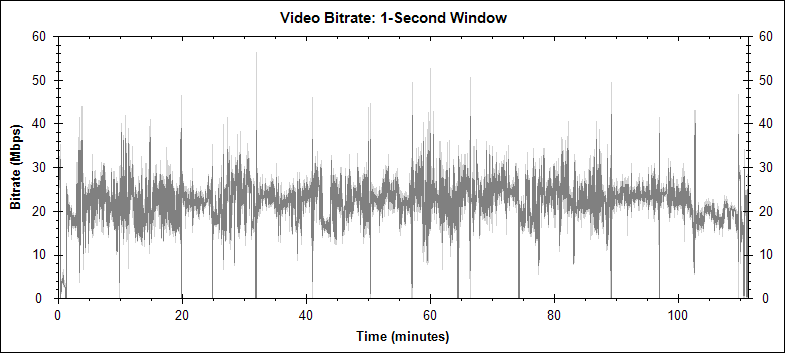 ---
&copy 2002-2010, Stephen Dawson