Home Page | About Me | Home Entertainment | Home Entertainment Blog | Politics | Australian Libertarian Society Blog | Disclosures
---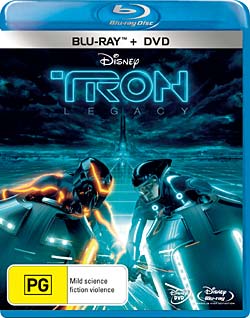 Originally published in Sound and Image, 2011
Last updated 17 August 2012
Download scan of review (JPEG, right click, Save As)
---
TRON: Legacy
2010 - Walt Disney Studios Home Entertainment
Director: Joseph Kosinski
Starring: Jeff Bridges, Garrett Hedlund, Olivia Wilde, Bruce Boxleitner, James Frain, Beau Garrett, Michael Sheen and Anis Cheurfa

Movie:

Picture:

Sound:

Extras:

---
Back in 1982 Disney released the pivotal computer graphics movie: TRON. Jeff Bridges, a crash-hot programmer and social rebel, accidentally finds himself sucked into the computer of corporate giant ENCOM. There he has to deal with human-looking programs, and an antagonist who is out to kill him, so that he can come out and fight a corporate battle. Now its sequel has appeared: TRON Legacy.

The introduction is set back in 1989, some seven years after the events of the original Tron. There's a little father/son bonding as Jeff Bridges/Kevin Flynn, leaves young Sam's life for the last time, although neither realise this at the time.

Flynn disappears and ENCOM, which he had taken over, lapses into others' control. Young Sam grows up to become a rebel himself, and then in answer to a mysterious pager message, finds himself also inside the computer, where he meets his father, who has aged normally during his years in the computer. There is also a replica of his father -- 1989 model -- called CLU, who is out to get them both.

It's worth watching, or rewatching, TRON before this one. The new movie shows plenty of respect for it. The new computer interior is a thousand times richer than the old one, and people (and programs) in this one look like people, rather than like newspaper photographs of people.

The picture is immaculately clear throughout, with great blacks and smooth presentation of the bright splashes of electric colour demanded by this movie. It is presented with a mixture of 1.78:1 and 2.35:1 aspect ratios, Dark Knight style. If you have a Constant-Image-Height setup, you'd better switch it off for this one to avoid whirring motors on numerous occasions through the movie.

Being so revealing, it was almost painful in parts to the discerning viewer. Well, to me anyway.

I'm always interested in how someone is aged in a movie, or made younger. In the 1989-set opening sequence, the actor Bridges is made to look in his mid-thirties, I'd guess. Likewise, the CLU within the computer looks like this younger Bridges. For both, Bridges acted the part, but his face was replaced with an animated younger version, driven by motion capture cameras.

I suspect the filmmakers were proud of their work in this section. In the 1989 opening you scarcely see him until the very end. There are long shots. There are shots with Bridges' facing away from the camera. There are profile shots in which he is backlit. And the conventions of intimate conversational cinematography are abandoned. You see a closeup of the son, but then the cut is to a distant shot of the father, rather than the matching full facial shot that cinema would normally provide.

And at the end of this section is the big reveal: the younger Bridges, reanimated! Except that he looks a little plastic, or perhaps as though he has had a bit too much botox applied. If you weren't looking for it, you might overlook it. But I found him creepy. The same was the case for the CLU version of Bridges, although the creepiness was a little more justifiable with that.

But wow. As ear candy this disc is brilliant. The motorcycle race at the start, the mothballed games arcade coming back to life, and most especially the Grid itself. As Sam Flynn enters the games arena, the crowd's roar is fully encompassing. Those pincer units which whiz around throughout, chasing our various heroes, are now far more realistically realised, and come with an underpinning infrasonic accompaniment to give them real bite.

Meanwhile, a new film score by Daft Punk, with sounds which would be fitting for an early electronic synthesizer, fills the acoustic space with a slight reminiscence of the early 1980s, yet manages to avoid sounding dated.

There's a decent collection of making-of featurettes, and a ten minute spin-off short film. That finishes in a 'High Score' screen from an old arcade game. Enter the one of the nine three letter initials and an Easter Egg is invoked, showing other video relating to the short film.

Being an inquisitive sort, sometimes I stumble across content on Blu-ray discs that isn't supposed to be playable. One such piece of content on this disc -- file 00183.m2ts -- is a forty second video describing how you can download an iPad app that acts as a 'Second Screen'. You can link this to your Blu-ray player and watch elements on the iPad screen, and use it to control some of the features. At the ends it notes that Second Screen is 'Not available in all territories'. Since this video file isn't accessible in normal playback, I guess Australia isn't a territory in which this feature is available.
---
Facts
Running time: 125 minutes
Picture: 1.78/2.35:1, 1080p24, MPEG4 AVC @ 23.97Mbps
Sound: English: DTS-HD Master Audio 24/48 3/4.1 @ 5731kbps (core: DTS 24/48 3/2.1 @ 1509kbps); English, English Audio Descriptive: Dolby Digital Surround 2/0.0 @ 320kbps; French, Spanish: Dolby Digital 3/2.1 @ 640kbps
Subtitles: English, French, Spanish
Extras: 4 Featurettes (1080p24 - 37 mins); Short Film: 'The Next Day: Flynn Lives Revealed' (1080p24 - 10 mins); 9 Easter Eggs (1080p24 - 12 mins); Music Video (1080p24 - 3 mins); Restarts where stopped
Restrictions: Rated

(Australian rating); Region Free

The following video bitrate graph was generated by BDInfo 0.5.7:
---
&copy 2002-2012, Stephen Dawson