Home Page | About Me | Home Entertainment | Home Entertainment Blog | Politics | Australian Libertarian Society Blog | Disclosures
---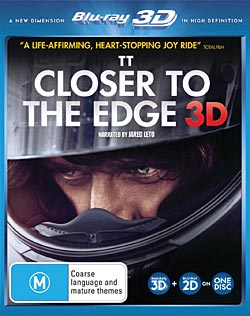 Blu-ray Reviews: TT3D: Closer to the Edge - Blu-ray 3D
Originally published in Sound and Image, July 2012, v.25#06
Last updated 23 February 2013
Download scan of review (JPEG, right click, Save As) Page 2.
---
TT3D: Closer to the Edge
2011 - Icon Film Distribution Pty Ltd
Director: Richard De Aragues
Starring: Guy Martin, Ian Hutchinson, John McGuinness, Michael Dunlop and Keith Amor

Movie:

Picture:

Sound:

Extras:

---
I hate documentaries. As a rule, anyway. Anything to do with politics -- which is very nearly everything -- is skewed, and to even realise this you need to have considerable expertise in the subject already. So why bother even watching the documentary?

All documentaries are seeking to push a point of view. A documentary that doesn't have a point of view isn't a documentary at all; it's an educational film, and it's boring.

Usually.

Unless the subject matter is so incredibly thrilling that no editorial viewpoint is required.

And that's what brings us to TT3D: Closer to the Edge.

The TT -- which stands for Tourist Trophy -- is an annual motorcycle race meet that takes place over a couple of weeks on the Isle of Man. It has been running since 1907 and is one hell of a scary event.

Indeed, it almost seems to have been designed to be dangerous. It is a street course, much of it twisty, but without any of the modern safety features of, say, a MotoGP track. There are no safety fences, but there are quaint rock walls which the riders skim while cornering. There are no gravel run-off spaces to allow dismounted riders to shed speed before hitting something. The course itself is a little over 60 kilometres long, with the various races consisting of two or three or four laps. There's little opportunity to learn the course as well as riders do in normal races, which are on tracks only a few kilometres long. And it's fast. The current lap record was achieved in 2009 at an average speed of over 130 miles per hour, or 211kph.

Dangerous? Hell yes! Since 1907 some 237 deaths have occurred in the race or in practice sessions. Including six in 2011 alone.

This documentary follows the 2010 race (only four deaths that year), focusing in particular on Guy Hamilton, a strangely taciturn, then voluble, then taciturn Lancashire man.

It's fascinating from end to end, and it's in 3D.

It looks impressive and the 3D effectively adds to the sense of immersion. As if it needs to be any more frightening!

Technically the Blu-ray 3D presentation is standard, in the sense that the same content is used for both 2D and 3D. If you pop the disc in a 2D system that's all you get. I mention this because quite a few titles are coming out with separate 2D and 3D versions (such as Icon's Shark Night 3D, which has both versions on the one disc.)

Now here's something that's quite interesting. Blu-ray 3D works by, typically, having the left eye view of the content encoded as standard MPEG4 files in files with an 'M2TS' extension. Then there are a bunch of additional 'M2TS' files which contain the right eye view. Some jiggery pokery is performed on the directory structure of the disc -- something I'll confess that I don't completely approve of -- so that both the left and the right eye files for the content are also shown, joined together, as single files with an extension 'SSID'.

Now the file containing the right eye view is typically around half the size of that containing the left eye view. The reason is that the right eye view is recorded as, basically, the differences from the matching left eye view. Since the two frames for the left and right eye views have, at each instant, a high degree of commonality, the difference record is relatively small.

Usually. But with this disc the left eye view bitrate is a quite low 16.59Mbps, while the right eye adjustments are at 13.21Mbps. I suspect that the amount of naturalistic detail means quite a bit less commonality between the two views than is the norm.

Anyway, despite the lowish left eye bitrate, the picture quality looks good -- once again, in that naturalistic, documentary way. It isn't a polished Hollywood number. Nonetheless, since Icon has used a dual layer disc for this release, perhaps it could have used a bit more than three quarters of the available dataspace that it actually did use in order to provide a higher bitrate.

The sound is delivered in lossless 5.1 and stereo and is serviceable documentary quality.

This one is not just for the boy racer. It is for anyone who marvels at, and seeks to understand, those people who are prepared to take a very real chance of dying in order to compete.
---
Facts
Running time: 104 minutes
Picture: 1.85:1, 1080p24, MPEG4 AVC/MVC @ 16.59/13.21Mbps
Sound: DTS-HD Master Audio 16/48 3/2.1 @ 2005kbps (core: DTS 16/48 3/2.1 @ 1509kbps); English: LPCM 16/48 2/0.0 @ 1536kbps
Subtitles: English
Extras: 10 Featurettes (576i50 - 88 mins)
Restrictions: Rated

(Australian rating); Region free

The following video bitrate graphs were generated by BDInfo 0.5.8. This is for the main, AVC, stream of the 3D video: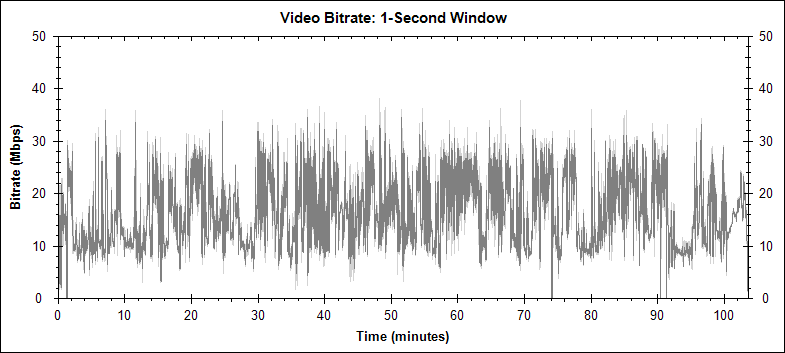 This is for the MVC 3D video stream: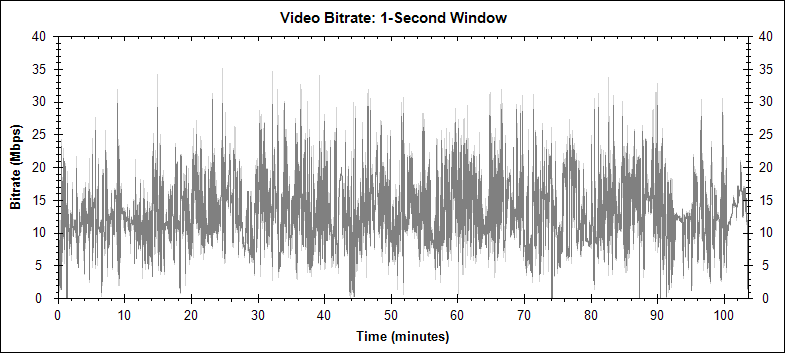 ---
&copy 2002-2013, Stephen Dawson