Home Page | About Me | Home Entertainment | Home Entertainment Blog | Politics | Australian Libertarian Society Blog | Disclosures
---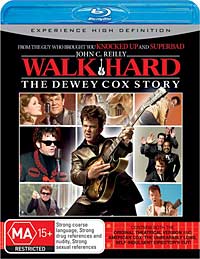 Blu-ray Reviews: Walk Hard: The Dewey Cox Story
Originally published in Australian HI-FI, March/April 2009, v.40#2
Last updated 27 June 2009
---
Walk Hard: The Dewey Cox Story
2007 - Sony Pictures Home Entertainment Australia
Director: Jake Kasdan
Starring: John C. Reilly, Conner Rayburn, Chip Hormess, Raymond J. Barry, Margo Martindale, Kristen Wiig, Harold Ramis, Chris Parnell and Jenna Fischer

Movie:

Picture:

Sound:

Extras:

---
Biopics of musicians (Walk the Line, Ray) have been assailing us in recent years, so it oughtn't surprise that the genre has already been spoofed. Spoofed hard, you might say.

Walk Hard follows the life of seminal rocker Dewey Cox from the formative tragedy of his life (at eight, he accidentally bisects his brother with a machete) through his musical career, his struggle with his musical masterpiece, his struggle with drugs, his struggle with love and his lovers, and so on.

Along the way Dewey -- played from age 14 on by a brilliant 42 year old John C Reilly, doing his own singing -- performs at what appears to be the Grand Ole Opry, following the Big Bopper, Buddy Holly and Elvis. Later he does the whole 60's thing, penning a protest song in defence of 'midgets'. Having been introduced to LSD by the Beatles (Jack Black does a cameo as Paul McCartney, and Jason Schwartzman as Ringo) during the obligatory 60s visit to India, he comes home to hire a 137 piece orchestra and produces some eerily pettish sounds.

An encounter with cocaine sees him inventing punk rock. A decline in creative output, and he hosts his own TV show in competition to Donnie and Marie.

The major problem with this movie is it's a bit too clever for its own good. The orchestral sequence is very clever, but will likely fly over the heads of those only superficially aware of The Beach Boys. The 70s TV show is spot on, but you have to be old enough to have experienced the type to appreciate how accurate it is.

Those that do will appreciate this movie. The picture is good and you get sound in 5.1 channel losslessly compressed Dolby TrueHD (hey, in English and in Spanish!). And you get a choice of the 96 minute original theatrical version, or the 120 minute 'Unbearably Long, Self-Indulgent Director's Cut', as it is called. If you think you'll get the jokes, go for the longer one.

But, for goodness sake, be aware of the MA rating. It isn't just the language or the accidental choppings in half of human beings, there is also some literally in-your-face full frontal male nudity.

Additional web note: this disc uses BD-Java. BD-Java discs won't restart from where they were stopped. They have to go through a whole boot-up process. But this disc captures and stores the point at which play is interrupted. Next time you put it in (to the same player), it will ask you if you want to resume play. That's a very useful features, and should be built into all BD-Java discs.
---
Facts
Running time: 96 minutes (120 minutes for Director's Cut)
Picture: 2.35:1, 1080p24, MPEG4 AVC @ 22.50Mbps (22.74Mbps for Director's Cut)
Sound: English: Dolby TrueHD 16/48 3/2.1 @ 1630kbps (Core: Dolby Digital 3/2.1 @ 448kbps); Spanish: Dolby TrueHD 48kHz 3/2.1 (Core: Dolby Digital 3/2.1 @ 448kbps); English Descriptive Audio, Czech, Hungarian, Polish, Russian: Dolby Digital 3/2.1 @ 448kbps; Commentary: Dolby Digital 2/0.0 @ 192kbps
Subtitles: English, English for the Hearing Impaired, Spanish, Czech, Hungarian, Polish, Arabic, Bulgarian, Croatian, Danish, Dutch, Estonian, Finnish, Greek, Hebrew, Hindi, Icelandic, Lithuanian, Norwegian, Portuguese, Slovene, Romanian, Slovak, Swedish, Turkish, English (Commentary), Spanish (Commentary), Dutch (Commentary)
Extras: Bookmarks; 'The Unbearably Long, Self-Indulgent Director's Cut' version with optional pop-up extended scenes markers (122 mins); Three Deleted and Extended Scenes (1080p24, MPEG4 AVC, DD 2.0 @ 224kbps - 8 mins); Featurette: 'The Music of Walk Hard' (1080i60, MPEG4 AVC, DD 2.0 @ 224kbps - 17 mins); Six Full Song Performances (1080p24, MPEG4 AVC, DD 2.0 @ 224kbps - 17 mins); 'Line-O-Rama' altered punch lines montage (1080p24, MPEG4 AVC, DD 2.0 @ 224kbps - 6 mins); Mock Featurette: 'The Real Dewey Cox' (1080i60, MPEG4 AVC, DD 2.0 @ 224kbps - 14 mins); 7669 Test Patterns (1080p24, MPEG2 - 1 min); Auto Resume
Restrictions: Rated

(Australian rating); Region Free

This is the video bitrate graph for the theatrical cut of this movie, generated by BDInfo 0.5.2: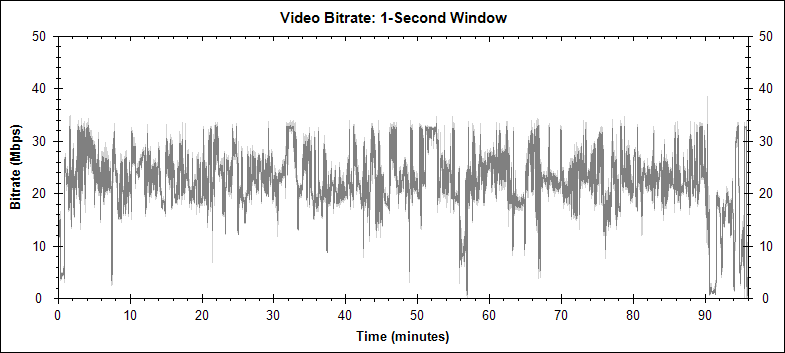 This is the video bitrate graph for the director's cut: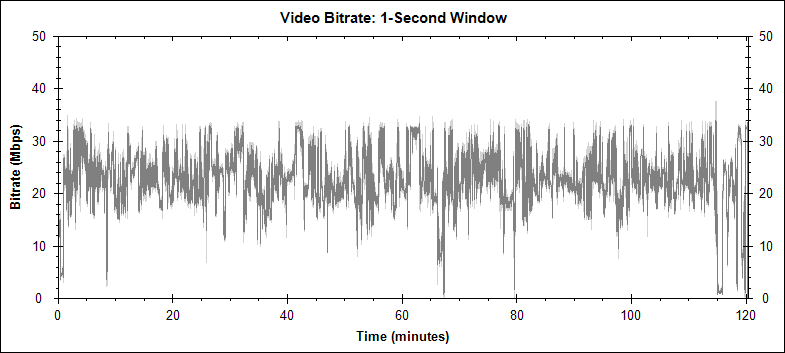 ---
&copy 2002-2009, Stephen Dawson