Home Page | About Me | Home Entertainment | Home Entertainment Blog | Politics | Australian Libertarian Society Blog | Disclosures
---
Originally published in Sound and Image, July/August 2008, v.21#8
Last updated 4 July 2009
---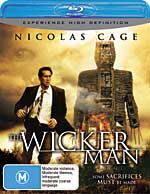 The Wicker Man
2006 - Sony Pictures Home Entertainment Australia
Director: Neil LaBute
Starring: Nicolas Cage, Ellen Burstyn, Kate Beahan, Frances Conroy, Molly Parker, Leelee Sobieski, Diane Delano, Michael Wiseman, Erika-Shaye Gair and Matthew Walker

Movie:

Picture:

Sound:

Extras:

---
There is a definite bias in my disc reviews. So many movies to look at, so few slots in which I can report on them, I tend to choose those I like the most. So, by way of redress, I present: The Wicker Man.

Steady on. This is most definitely not the superb 1973 Edward Woodward thriller, scripted by Anthony Shaffer. This is the horrible Nicholas Cage remake.

The only mystery about this movie is why it fails so horribly. The acting is good, as is the cinematography and the various other technical points. The fact is, the original succeeded not by formula, but by establishing a sustained mood, part Kafka-esque. This remake completely misses it.

The rendition on this Blu-ray is fine. One (minor) point of interest is that this movie's distribution rights for the US belong to Warner Bros, but for Australia and Japan it's with Sony Pictures. Each company has mastered its own BD: the US gets the VC1 video codec, we get MPEG4 AVC. We get Dolby TrueHD, America gets Dolby Digital.

Nobody gets many extras.
---
Facts
Running time: 102 minutes
Picture: 2.35:1 anamorphic, 1080p24, MPEG4 AVC @ 20.88Mbps
Sound: English: Dolby TrueHD 16/48 3/2.1 @ 1371kbps (Core: Dolby Digital 3/2.1 @ 640kbps); Japanese: Dolby TrueHD 16/48 3/2.1 @ 1500kbps (Core: Dolby Digital 3/2.1 @ 640kbps); Commentary: Dolby Digital 2/0.0 @ 192kbps
Subtitles: English, English for the Hearing Impaired, Japanese
Extras: Alternate Ending (1080p24, MPEG2, DD2.0 @ 192kbps - 1 min); Trailer for 'Ghost Rider' (1080p24, MPEG2, DD5.1 @ 448kbps - 3 mins); Trailer for 'Perfect Stranger' (1080p24, MPEG2, DD5.1 @ 448kbps - 2 mins); 7669 Test Patterns (1080p24, MPEG2 - 1 min)
Restrictions: Rated

(Australian rating); Region Free

The following video bitrate graph was generated by BDInfo 0.5.2: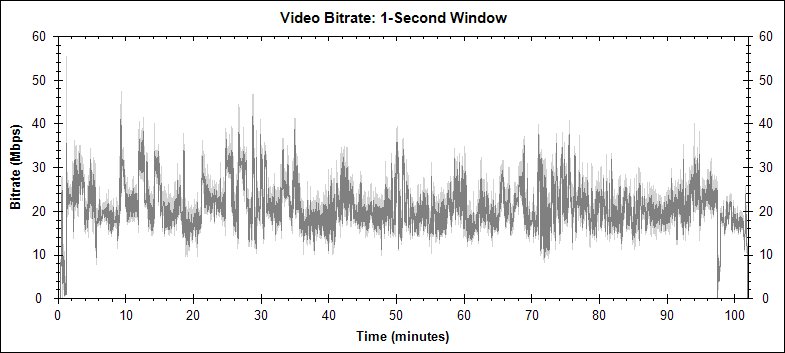 ---
&copy 2002-2009, Stephen Dawson