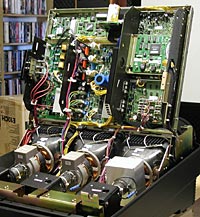 Yesterday I finished a review of the Barco Cine 7 LT projector, which should appear in a couple of weeks in the 'Livewire' section of The Age newspaper. I had thought that CRT projectors were big, heavy and expensive. The Cine 7 LT is indeed big and heavy, but sells for around the price of the less expensive Mustang-based DLP projectors.
The picture gives a hint as to why they are big and heavy. Three CRT tubes and a huge amount of electronics.
So why did I have it opened up and guts displayed to the world? Well many of the setup features (including such tricky matters as convergence, which can be performed automatically) are accessed through regular setup menus. But the projector's location isn't. To set the picture the right way around for ceiling or table-top use, or for front or rear projection, you have to open up that big electronics chassis, pull up to six signal feeds from the board, and re-plug them in the other way around. Fun, eh?