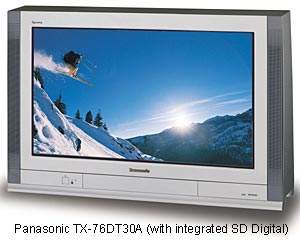 Meanwhile, Panasonic has gone digital. It's introducing two digital set top boxes and a 76cm widescreen TV with integrated Standard Definition digital tuner (the TX-76DT30A). This $4,399 TV is available now.
The cheaper of the two set top boxes supports SD only (model TU-CT20A) and, at $549, seems to be a little overpriced in that it lacks digital audio outputs (you can get the RCA and Zinwell boxes, with similar capabilities, for quite a bit cheaper). The TV seems a bit pricy too. While it's a good 100 hertz 76cm widescreen model, it doesn't get the 'Fine Pitch' treatment of the other new Panasonic model. Add the $3,629 of this model to the $549 of the SD box and you get $4,178, or more than $200 cheaper
than the integrated model. On the other hand, if well-implemented, the integrated TV ought to deliver better quality pictures from digital broadcasts, because it should not suffer the extra pair of digital to analogue, and analogue to digital conversions inherent in set top box connections.
The other set top box (model QTR2140) is a welcome addition to the line up since it competes in the very limited high definition field which, until now, has been exclusivelyDGTEC's. This supports up to 1080i and has a full set of digital audio outputs. It will sell for $989. Both set top boxes are scheduled to be available in August 2003.