Home Page | About Me | Home Entertainment | Home Entertainment Blog | Politics | Australian Libertarian Society Blog | Disclosures
---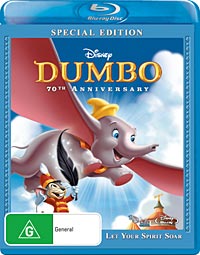 Originally published in Australian HI-FI, Nov/Dec 2010, v.41#6
Last updated 30 August 2011
---
Dumbo
1941 - Walt Disney Studios Home Entertainment
Director: Hamilton Luske/Ben Sharpsteen
Starring: Mel Blanc, Don Brodie, Walter Catlett, Marion Darlington, Frankie Darro, Cliff Edwards, Dickie Jones, Charles Judels, Jack Mercer, Patricia Page, Christian Rub and Evelyn Venable

Movie:

Picture:

Sound:

Extras:

---
After the triumph of Disney's Snow White and the Seven Dwarfs, released in 1937, Walt followed up with Pinocchio and Fantasia. Both were expensively produced, and both produced relatively mediocre box office results on initial release. Meanwhile Disney had moved his operation into expensive new premises. Things were getting tight.

So the company went back to basics, producing Dumbo. Stylistically, this was more like the cartoon shorts Disney had been making for fifteen years (by then, it had produced over 250 of them!) It was, of course, in full colour, but otherwise went for flatter, more naive artwork and a simpler, shorter story.

Very short, in fact, at only 64 minutes. That means it worked well for the young ones. The story was simple, and the character animation very fluid and expressive. And of course it is exceptionally ... what's the cliche word? ... heartwarming. That is the only word that really fits.

It made Disney a stack of money, and won the 1942 Oscar for Best Musical Score.

Another ancient movie, it predates Hollywood's move to widescreen, so the basic picture presents at an aspect ratio of 1.33:1. You can play the movie in three different ways. The first is with the squareish image centred in the screen and black pillars on either side, which is what is contained by the raw movie file. Another way is just the same, except that the black pillars are overlaid by complementary artwork panels. I found these a little distracting, but if I was using a display susceptible to burn in, they'd be useful.

The third option is with the Disney Cine-Explore feature. In this disc it includes a BonusView PIP element. With three commentators, the discussion is very detailed and interesting, and accompanied by clips from other cartoons and works to which they refer, along with graphical overlays to show static images illustrating similar points. Of course, you will need a BonusView capable player to experience this.

The picture quality was exceptionally good. With the more basic animation style, the characters have black outlines, and on this Blu-ray version these are all sharply etched, while the colour blocks within them are smooth, unblemished, and glowing in their beauty.

The sound has been converted to 7.1 channels, but still sounds limited thanks to the constrained bandwidth of the recording technology of the time, along with the significant levels of distortion, especially during massed vocals. Nonetheless, if you keep the level down to where the dialogue remains clear, it is pleasant enough in a nondescript way.
---
Facts
Running time: 64 minutes
Picture: 1:33:1 pillarboxed, 1080p24, MPEG4 AVC @ 24.63Mbps
Sound: English: DTS-HD Master Audio 24/48 3/4.1 @ 3279kbps (core: DTS 24/48 3/2.1 @ 1509kbps); Portuguese, Polish, Hungarian, Greek, Arabic: Dolby Digital 3/2.1 @ 640kbps; Russian: Dolby Digital Surround 2/0.0 @ 320kbps; BonusView PIP: Dolby Digital Surround 2/0.0 @ 192kbps
Subtitles: English, English for the Hearing Impaired, Portuguese, Polish, Hungarian, Greek, Russian, Arabic, Ukrainian
Extras: Cine-Explore playback mode with BonusView PIP; Art Galleries (685 stills, 1080p24, MPEG2, no audio); 2 Family Games with BD-Live Support; BD-Live Disney Portal; 2 Silly Symphonies cartoons (1080p24, MPEG4 AVC, 7 x DD2.0 @ 320kbps - 18 mins); Deleted Sequence (1080p24, MPEG4 AVC, DD2.0 @ 192kbps - 6 mins); Deleted Song (1080i60, MPEG4 AVC, DD2.0 @ 192kbps - 4 mins); 2 Featurettes (1080p24, MPEG4 AVC, DD2.0 @ 192kbps - 31 mins); 3 Featurettes (1080p24, MPEG4 AVC, DD2.0 @ 192kbps - 22 mins); 2 Trailers (480i60, MPEG4 AVC, DD2.0 @ 192kbps - 4 mins)
Restrictions: Rated

(Australian rating); Locked to Regions B & C

The following video bitrate graph was generated by BDInfo 0.5.4:
The following graph is for the BonusView PIP element: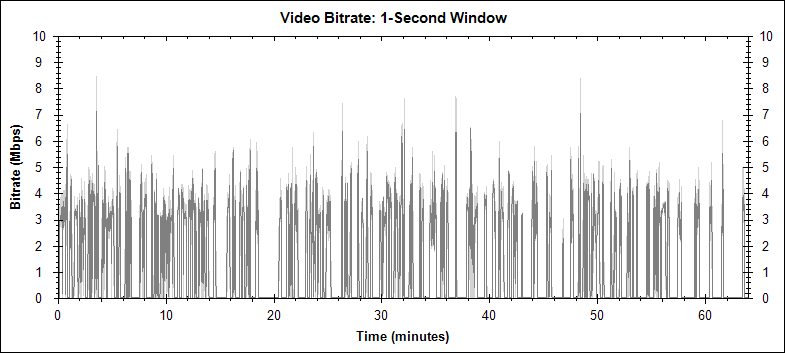 ---
&copy 2002-2011, Stephen Dawson