Home Page | About Me | Home Entertainment | Home Entertainment Blog | Politics | Australian Libertarian Society Blog | Disclosures
---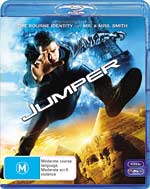 Originally published in Sound and Image, September/October 2008, v.22#1
Last updated 6 April 2010
---
Jumper
2008 - Twentieth Century Fox Home Entertainment South Pacific Pty Ltd
Director: Doug Liman
Starring: Hayden Christensen, Jamie Bell, Rachel Bilson, Diane Lane, Samuel L. Jackson, Michael Rooker, AnnaSophia Robb and Max Thieriot

Movie:

Picture:

Sound:

Extras:

---
Jumper is a science fiction chase movie, wherein Hayden Christensen is a self-preoccupied twenty-something who can whisk himself from where he is at any moment to anywhere else, simply by thinking about it.

This he performs effortlessly, without tiring regardless of the distance of the jumps or their frequency. Except that some effort apparently is required since there are limits on what he can carry with him. Apparently he also has to be somewhat familiar with the place to which he's jumping, presumably to avoid accidentally coexisting with a brick wall.

He isn't the only one. Jamie Bell (star of Billy Elliot) is another. Unfortunately, these jumpers are sought by a group called Paladins, headed by Samuel L Jackson. Jackson considers that only God should have their powers, so he dispatches them when he finds them with a ritual knife.

The cinematography is bright, detailed, sharp and in the currently favoured hand-held style. This transfers nicely to the MPEG4 AVC encode on the Blu-ray.

The sound is provided primarily in DTS-HD Master Audio, as is 20th Century Fox's wont, and the average bit rate seems to be about four megabits per second. That suggests that the sound is presented at 48kHz with 24 bits of resolution (uncompressed 5.1 sound of this resolution uses nearly 7Mbps).

For special extras you get a series of high definition featurettes, a couple of high definition animations, and an interesting 'Jumping Around the World' feature. This presents SD clips describing background for some of the international scenes (they were the first in yonks to be permitted to shoot inside the Colosseum in Rome). These are accessed via a map. But if you have a BonusView player, then you can run the movie so that these pop up in a window automatically.
---
Features
Running time: 88 minutes
Video: 2.35:1 anamorphic, 1080p24, MPEG4 AVC @ 28.13Mbps
Sound: English: English: DTS-HD Master Audio 24/48 3/2.1 @ 3860kbps (core: DTS 24/48 3/2.0 @ 1509kbps); Italian, Spanish: DTS 3/2.1 @ 768kbps; English Descriptive Audio: Dolby Digital 3/2.1 @ 448kbps; Commentary: Dolby Digital 2/0.0 @ 224kbps; PIP audio: DTS Express 16/48 2/0.0 @ 192kbps
Subtitles: English for the Hearing Impaired, Italian, Italian (Text), Spanish, Spanish (Text), Danish, Finnish, Norwegian, Swedish, English (Commentary), German (Commentary), Finnish (Commentary), Norwegian (Commentary), Swedish (Commentary)
Features: 'Jumping Around the World' PIP feature; 'Jumping Around the World' non-PIP feature; D-Box Motion Code; Animated Graphic Novel: 'Jumpstart: Jumper's Story' (8 mins - HD); Making-of featurette: 'Doug Liman's "Jumper" Uncensored' (36 mins - HD); Featurette: 'Making an Actor Jump' (8 mins - HD); Featurette: 'Jumping from Novel to Film: The Past, Present and Future of Jumper' (8 mins - HD); Six Deleted Scenes (11 mins - HD); Animation: 'Previz - Future Concepts' (5 mins - HD)

The following video bitrate graph was generated by BDInfo 0.5.3: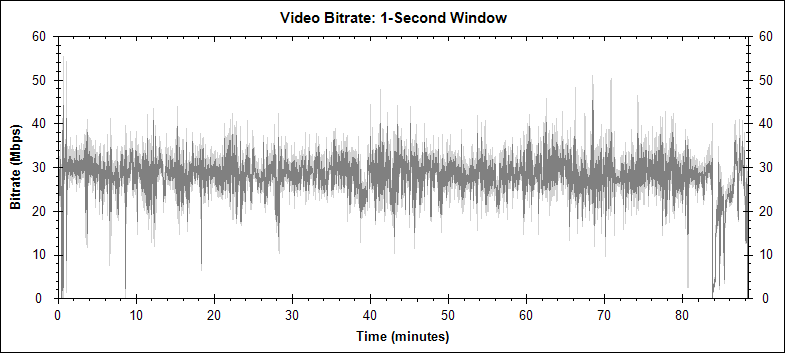 While the following is for the BonusView PIP track:
---
Here are some comparisons between the PAL DVD and the Blu-ray version of this movie. At the top of each is the full frame (suitably shrunk down) used in the comparison, with a 250 pixel wide detail from the frame underneath. The left side is from the PAL DVD. The image was captured digitally from the disc, scaled up from its native 720 by 576 resolution to 1,024 by 576 (to present in the correct aspect ratio), and then, in order to be comparable to the Blu-ray version, from that to 1,920 by 1,080. The detail is from that last scaled version, and has not been rescaled again. The right side is from the Australian Blu-ray. This has not been scaled at all. Different applications were used to capture the two frames, so I am not comfortable comparing the colour between the two, merely the detail and sharpness. For those visitors from NTSC lands, generally the PAL DVD is just a touch sharper than the NTSC DVD.

What, exactly, is the actor attempting to convey in this scene? The Blu-ray is noticably less ambiguous than the DVD in this regard: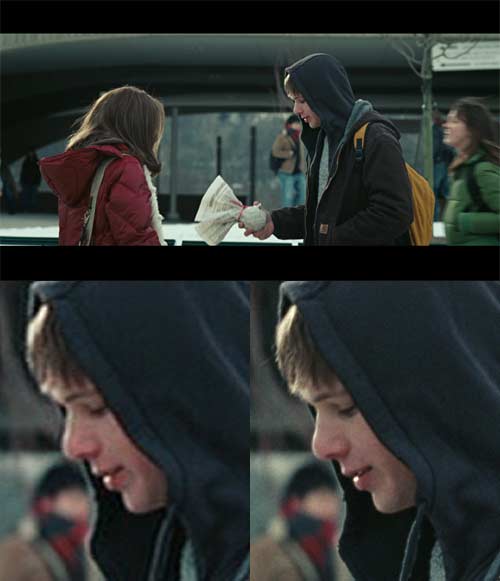 I've noticed this before, on Almost Famous, how it's foliage that seems to suffer most from the lower resolution of DVD. Good luck trying to work out what that stuff above the corpse is on the left hand version: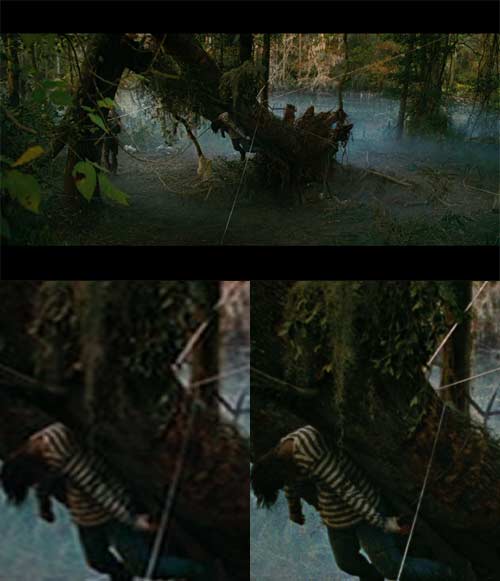 Hey: the costar has a very light sprinkling of freckles. She looks so much more like a real person in the Blu-ray: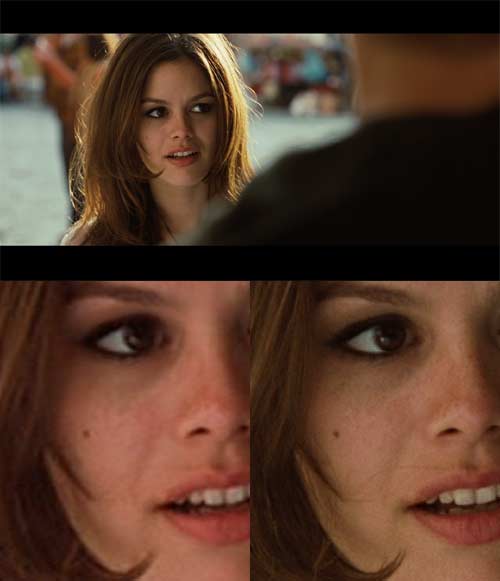 What is that? On the right it is instantly recognisable as a railing. On the left it is ... who knows? The sharpness improvement is obvious, and so is the amount of additional information conveyed to the viewer: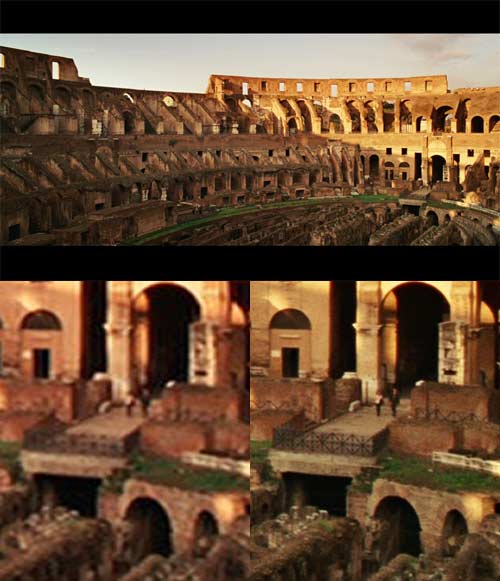 I need say nothing, and already enough is said: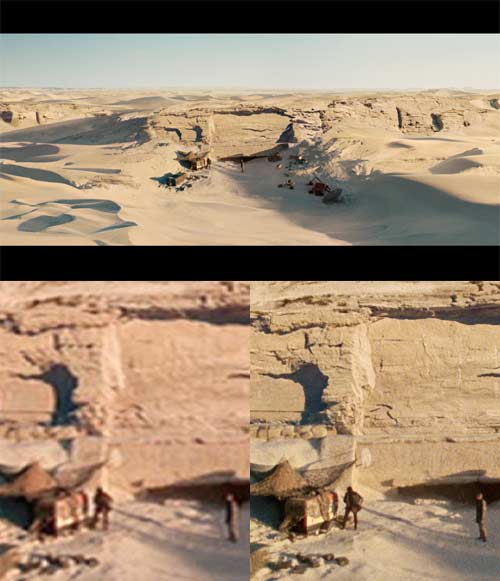 ---
&copy 2002-2008, Stephen Dawson