Home Page | About Me | Home Entertainment | Home Entertainment Blog | Politics | Australian Libertarian Society Blog | Disclosures
---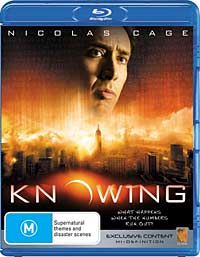 Originally published in Sound and Image, April 2010, v.23#05
Last updated 19 August 2010
---
Knowing
2009 - Icon Film Distribution Pty Ltd
Director: Alex Proyas
Starring: Nicolas Cage, Chandler Canterbury, Rose Byrne, D.G. Maloney, Lara Robinson, Nadia Townsend, Alan Hopgood, Adrienne Pickering, Joshua Long, Danielle Carter, Alethea McGrath and Ben Mendelsohn

Movie:

Picture:

Sound:

Extras:

---
(The following review was published as part of a combined review with
The Box
.)
Knowing and The Box are both science fiction movies made by exceptional talents. But both miss the mark as movies.
The reason is simple. In each case the denouement is pure 1950s hard core SF. And that's something that -- much as I love it, as I love those stories -- is unlikely to cut the mustard in 2010. Or even in 2009 when they were both released. Unfortunately, both movies spend most of their time pressing 'horror/thriller' buttons in their audiences up to that point, and so their resolutions didn't go down all that well.
Except for me, anyway.
The respect in which the directors are held is attested to by the fine casts they brought on board in relatively low budget undertakings: Nicolas Cage and Rose Byrne for Knowing, Camera Diaz and James Marsden for The Box.
The director of Knowing, Alex Proyas, is best known for his excellent early movies: The Crow and Dark City, and his 2004 Hollywood blockbuster I, Robot. Kelly is best known for his extraordinarily intelligent and moving Donnie Darko, which he followed up with the nearly incomprehensible Southland Tales. In both of those movies he was the master of the portentous scene, a talent that is on display here as well.
Knowing has the better picture quality, primarily because Kelly seems happy to accept occasionally soft cinematography. But both movies transferred to Blu-ray in MPEG4 AVC format rather nicely and that occasional softness isn't off-putting.
The distributor of both discs, Icon Film Distribution, has been gradually settling on a standard presentation for its Blu-rays. And it has been releasing its movies on Blu-ray at quite a clip, putting out more in recent months than most of the major studios.
Knowing was released about seven months before The Box, but it already includes both Dolby Digital and DTS-HD Master Audio for the sound. (A month or so later Icon asked me which I recommended, and I basically said that both were pretty much as good as each other.) This is a standard now for Icon: it includes both formats when they are available.
Knowing gets them at 16 bits of resolution, while The Box scores 24 bits. That more than doubles the audio bitrate, but since both discs are dual layer and neither movie is particularly long, this doesn't impact severely on the video bitrate. Both get around 22Mbps in the MPEG4 AVC format. Knowing is encoded at precisely 24 frames per second (which I mark with an asterisk thus: 1080p24*), whereas The Box gets the more common 23.976.
That weird frame timing ultimately comes from the introduction of NTSC colour in the 1950s. Previously the US TV system ran at 60 frames per second. For some arcane technical reason the introduction of colour prompted a reduction of speed by a factor of 1/1001, leading to 59.94fps becoming the standard. Why this should have translated through to 23.976 (= 24/1.001) being the Blu-ray standard is unclear. Perhaps this was thought necessary for a conversion back to 59.94 for display on American TV sets.
Still, both discs work fine on decent equipment. And both have about a half hour of interesting 'making-of' style HD featurettes and commentaries by their directors.
If you like old-fashion science fiction denouements, then you will enjoy both of these movies, along with their atmospheric sound and build up of tension.
---
Facts
Running time: 121 minutes
Picture: 2.35:1, 1080p24*, MPEG4 AVC @ 21.52Mbps
Sound: English: Dolby TrueHD 16/48 3/2.1 @ 1434kbps (Core: Dolby Digital 3/2.1 @ 640kbps); English: DTS-HD Master Audio 16/48 3/2.1 @ 1953kbps (Core: DTS 16/48 3/2.1 @ 1536kbps); Commentary: Dolby Digital 2/0.0 @ 192kbps
Subtitles: English
Extras: Two featurettes (1080i60, MPEG4 AVC, DD2.0 @ 640kbps - 30 mins); Trailer for 'Push' (576i50, MPEG4 AVC, DD2.0 @ 640kbps - 2 mins)
Restrictions: Rated

(Australian rating); Region Free; One extra in 576i50 format

The following video bitrate graph was generated by BDInfo 0.5.2: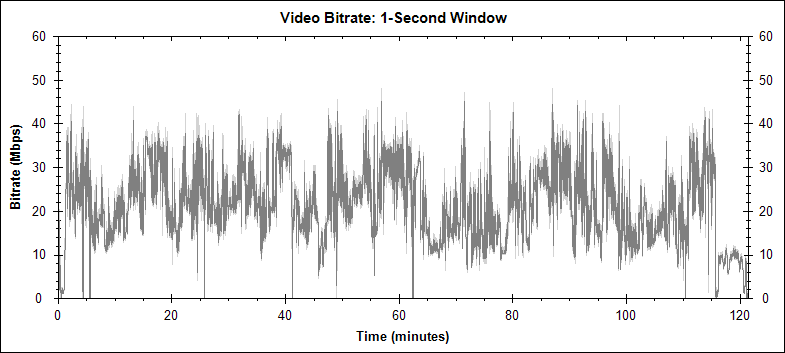 ---
Here are some comparisons between the PAL DVD and the Blu-ray version of this movie. Both the DVD and the Blu-ray versions were from test samples provided to me by Icon.

In the following examples, at the top of each is the full frame (suitably shrunk down) used in the comparison, with a 250 pixel wide detail from the frame underneath. The left side is from the PAL DVD. The image was captured digitally from the disc, scaled up from its native 720 by 576 resolution to 1,024 by 576 (to present in the 16:9 aspect ratio), and then, in order to be comparable to the Blu-ray version, from that to 1,920 by 1,080. The detail is from that last scaled version, and has not been rescaled again. The right side is from the Australian Blu-ray. This has not been scaled at all.

The detail is from that last scaled version, and has not been rescaled again. The right side is from the Australian Blu-ray. This has not been scaled at all.

Different applications were used to capture the two frames, so I am not normally comfortable comparing the colour and brightness between the two, merely the detail and sharpness. For those visitors from NTSC lands, generally the PAL DVD is just a touch sharper than the NTSC DVD.

I like doing comparisons on these recent movies because generally you can be confident that a similar quality of film stock was the source for both the DVD and the Blu-ray, and indeed it's likely that both came from the same high definition telecine capture of the same film.

Despite the same source -- or perhaps because of it -- the sharpness and detail are more apparent. Especially in the case of this movie, where clearly a great deal of attention was paid to sharp focus: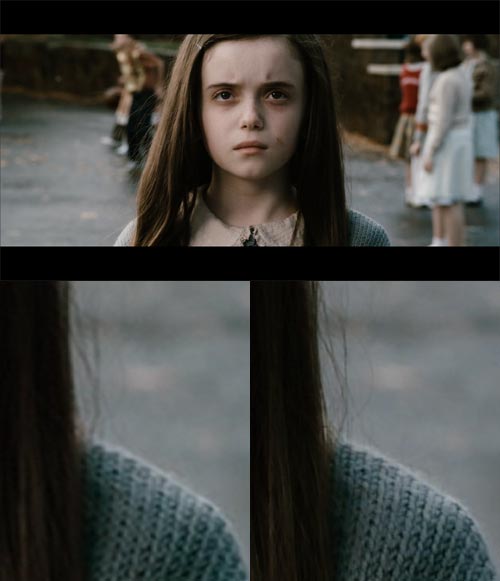 Good luck reading the text from the DVD:
Or noticing the creepy guy:
The Blu-ray makes the fact that we are viewing a computer screen very clear: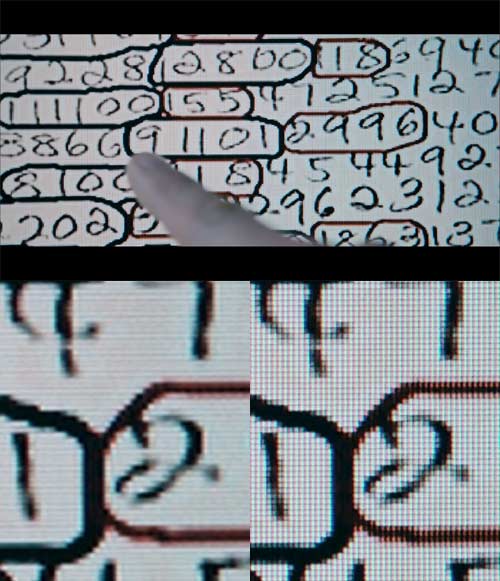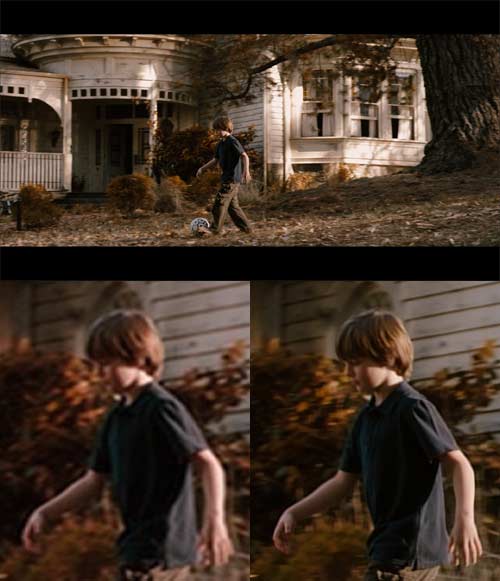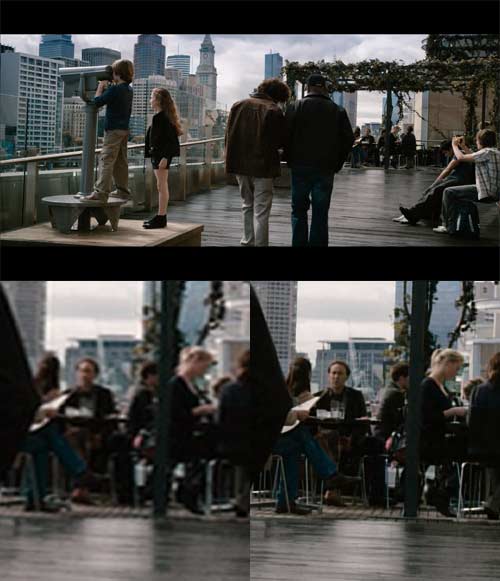 ---
&copy 2002-2009, Stephen Dawson