Home Page | About Me | Home Entertainment | Home Entertainment Blog | Politics | Australian Libertarian Society Blog | Disclosures
---
Originally published in Sound and Image, May/June 2008, v.21#7
Last updated 25 February 2013
Download scan of review (JPEG, right click, Save As)
---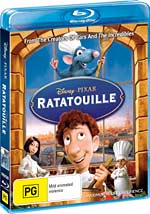 Ratatouille
2007 - Walt Disney Studios Home Entertainment
Director: Brad Bird/Jan Pinkava
Starring: Patton Oswalt, Ian Holm, Lou Romano, Brian Dennehy, Peter Sohn, Peter O'Toole, Brad Garrett, Janeane Garofalo, Will Arnett, Julius Callahan, James Remar, John Ratzenberger and Teddy Newton

Movie:

Picture:

Sound:

Extras:

---
Damnation! In this review I wanted to write about the miracle of Pixar (it's not just the perfection of the animation, but that all eight of its feature films have been hits -- not a single flop yet) and about the audacity of this movie: about a rat cheffing for a French restaurant.

I also wanted to write about the heavily BD-Java nature of this disc. How the main menu (entitled 'Total Menus') requires perhaps fifteen seconds of waiting while the necessary program loads. How the pop-up menu shrinks the image down to perhaps one sixteenth of the screen size, poking it up towards the top right hand corner. The remainder of the screen is filled with the stylised, Pink Panther type graphics that dominate the whole disc, except the movie.

It would have liked to mention the even better than before physics modelling of the real world in this movie, the incredible underwater scenes, the attention to detail (the ceramic condiment pots on the shelf bear, smeared by the 'camera' movement, product barcode stickers on the rear -- who on earth would have thought of adding those?) and the brilliance of the picture quality. The latter is generated by Pixar's computers for the 1,920 by 1,080 Blu-ray resolution, so it cannot be improved.

The extras are worth mentioning too, including the Cine-explore feature which overlays graphical and photographic stills on the picture, and diverges off to various illustrative film clips. Then there's the sound: LPCM 5.1 or the Dolby Digital/DTS 6.1 versions for both English and other languages.

Space prohibits all this, so let me focus on one feature. When you load this disc select 'Total Menus', then 'Set Up', then 'Audio/Video Set Up'. This starts a THX-style display calibration feature. Most of this (for Brightness, Contrast and Gamma) can be used as is. However for the colour adjustments you require a 'Color Adjustment Filter'. Further exploration reveals that this is a red filter, unlike the blue filters required by the original THX Optimizer which appears on some DVDs. Unfortunately, as I write, the only source for this is via Disney in the US, which only makes them available in North America.

Even so, unless you've had your display professionally calibrated for high definition, this alone makes Ratatouille a must-have for readers of Sound and Image.
---
Note: this disc has some of the on-screen text in different languages, depending on the viewer's language selection. Details and screen shots here.
---
Facts
Running time: 111 minutes
Picture: 2.35:1, 1080p24, MPEG4 AVC @ 23.43Mbps
Sound: English: LPCM 16/48 3/2.1 @ 4,608kbps; English, French, Dutch, Flemish: Dolby Digital EX 6.1 3/2.1 @ 640kbps; French, Dutch: DTS-ES Matrix 6.1 24/48 3/2.1 @ 1,536kbps
Subtitles: English, English for the Hearing Impaired, French, Dutch
Extras: Cine-Explore version; Gusteau's Gourmet Game (interactive); Pixar short: 'Lifted' (5 mins); Pixar short: 'Your Friend the Rat' (11 mins); Documentary: 'Fine Food and Film' (14 mins); Thirteen 'Animation Briefings' (14 mins); Ten 'Documentary Shorts' (51 mins); Three deleted Scenes (15 mins); Five deleted shots comedy shorts (3 mins); Alternate Score for 'The Will' (2 mins); Tribute featurette 'Remembering Dan Lee' (3 mins)
Restrictions: Rated

(Australian rating); Region B Locked

The following video bitrate graph was generated by BDInfo 0.5.3: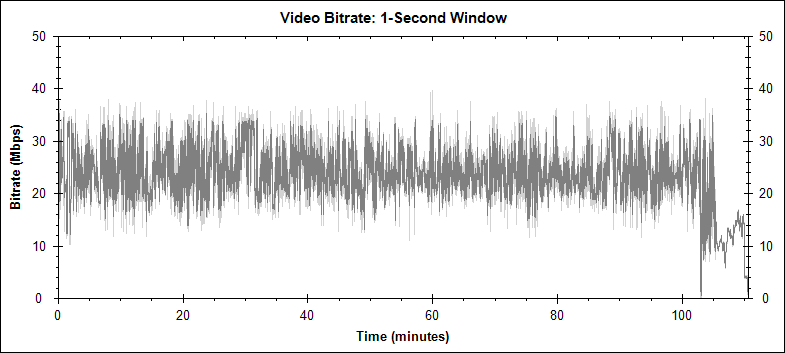 And the following video bitrate graph is for Angle 1 in the movie, which shows where the different video is displayed to cater for the second on-screen language: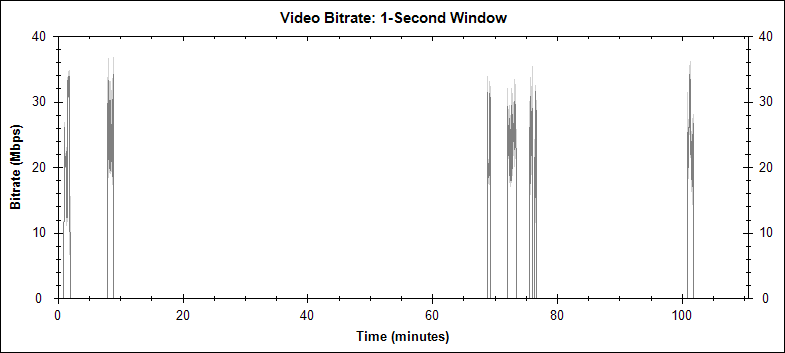 ---
&copy 2002-2010, Stephen Dawson