I'm expecting to receive both Monsters Inc and Up on Blu-ray from Disney shortly. Meantime, I just wanted to revisit another earlier Pixar classic: Ratatouille. In particular, the way that Pixar caters for foreign languages.
I raised that in an earlier post, Super-dedicated WALL-E, in which I noted that the Australian Blu-ray disc presents any text that appears within the movie itself in one of up to fifteen languages, depending on the language chosen by the user. To do that it uses fifteen playlists, each using seamless branching to assemble the movie from a bunch of files, some consistent for all versions, others different for most or all versions.
But that's not the only way of doing things. The Australian Ratatouille comes in two versions: one if you choose 'English' or 'Francais' as your language selection on disc startup, and the other if you choose 'Nederland' or 'Vlaams'. I understand that this last is a type of Flemish, used in parts of Holland and Belgium.
This doesn't use seamless branching, but angles. For example, about 75 minutes and 25 seconds into the movie there is a 34 second scene in which three different newspapers (or newspaper pages) are displayed. If played back with 'English' or 'Francais' selected, the first of these looks  like the top portion of the following picture, but with 'Nederland' or 'Vlaams' selected it looks like the bottom part: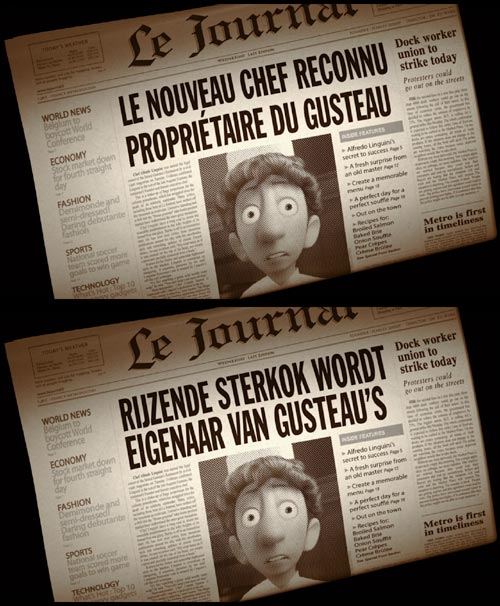 Note: only the two-line headline is different, and it appears to be French in the English/French version, and Dutch in the Dutch/Flemish version. Most of the other text on the page is in English in both versions (including the story under the headline, which commences 'Chef Alfredo Linguini was named the legal owner of the famed Gusteau's Restaurant by a civil court magistrate on Tuesday.')
The US version appears to have three angles to cater for its languages (English, French and Spanish), while the German version also appears to have three angles (English, German and Italian).
Incidentally, on Blu-ray 'angles' vs 'seamless branching' seems to be a logical distinction rather than a physical one, since in both cases the differing content is held in different *.m2ts files.
Update (3:20pm): Since the above contained a fair bit of supposition on my part, I asked the Melbourne Herald Sun columnist, Andrew Bolt, for his view on the bottom headline (he speaks Dutch). He said:
"Rising star chef becomes owner of Gusteau's"

Flemish and Dutch are virtually identical. The accent and colloquialisms are the real difference.
Which is why only one extra angle was needed, and not two.