Home Page | About Me | Home Entertainment | Home Entertainment Blog | Politics | Australian Libertarian Society Blog | Disclosures
---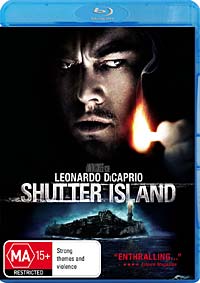 Originally published in Sound and Image, July/August 2010, v.23#08
Last updated 22 May 2011
---
Shutter Island
2010 - Paramount Home Entertainment (Australasia) Pty Ltd
Director: Martin Scorsese
Starring: Leonardo DiCaprio, Mark Ruffalo, Ben Kingsley, Max von Sydow, Michelle Williams, Emily Mortimer, Patricia Clarkson, Jackie Earle Haley, Ted Levine, John Carroll Lynch and Elias Koteas

Movie:

Picture:

Sound:

Extras:

---
After a startling splash in the 1970s (eg. Taxi Driver), Martin Scorsese has popped out a widely recognised classic every four of five years, and is still managing to do so even though he is now in his late 60s. In Shutter Island he has again used Leonardo DiCaprio (they previously worked together on The Aviator, and The Departed), one of the finest actors currently working.

I can say nothing much about the plot, other than that it is set in the 1950s in a high security psychiatric prison located on the eponymous American island, and that it is brilliant. So brilliant that I had to watch the movie again the next evening.

So brilliant, that I suggest that you keep away from the Internet Movie Database forums for this movie, because large groups of enthusiasts appear to have descended into tribal warfare over the interpretation of the movie. Let me just say that the most obvious interpretation is also the most satisfying, although saddening, one.

Aside from the excellent plot, there are a number of dream sequences that are so heart-rendingly beautiful that I shall have to forever consider all other dream sequences to be inadequate.

Happily the encoding of the video to the disc, via the MPEG4 AVC codec, is immaculate. A reasonably high 27+ Mbps is devoted to the task. The photography is largely naturalistic, albeit with a mood-setting blue cast (except for those dream sequences), with good deep blacks and occasional bright pops of colour penetrating the greens of the grasses and shrubs.

The sound never stops. If you are inside a building in a tiled medical area, the sharp and long acoustics are reproduced by your surround sound system. If you are on an islet approaching a lighthouse, the ocean is all around you. A storm threatens to aurally drown you. A single gunshot pierces you. The sound design is as close to perfection as anything ever made.

Yet even with the great care taken in all these things, there remains an odd technical mistake. The Australian version of the disc supplements the very high bitrate DTS-HD Master Audio surround sound with both an Audio Descriptive track for the visually impaired in Dolby Digital 5.1, and a Dolby Digital French language dub.

The software I use to analyse Blu-ray discs said that this French track was merely 5.0 channels; that is, no LFE. But both my Oppo BDP-83 Blu-ray player, and PowerDVD on my computer, reported that French audio was 5.1 channels. The author of the disc analysis program resolved the problem. It turns out that the first 32 packets of audio on this track say 5.0, but the remainder correctly say 5.1.

If you need to watch in French for some reason, and your Blu-ray player indicates that it is only providing 5.0 channels, rather than 5.1, then you can fix this with a simple trick. Start the movie in English and then switch to French using either the pop-up menu or your Blu-ray player remote's 'Audio' key. This will pick up the control data from somewhere after these first few data packets.

For such an important movie, the disc was surprisingly light-on for special extras. You do get bookmarks with are retained in persistent storage (press the green or 'B' key to store and go to 'Scenes|bookmarks' to jump to them. And you get two interesting featurettes on the story and the making of the movie. And good on you Paramount: both start with a 'Spoiler Alert' screen warning you that they give away important details in the story.

But you don't get BD-Live, nor a BonusView feature, nor indeed a standard audio commentary.

Regardless, this movie is a very worthy addition to any Blu-ray collection.
---
Facts
Running time: 138 minutes
Picture: 2.35:1, 1080p24, MPEG4 AVC @ 27.63Mbps
Sound: English: DTS-HD Master Audio 24/48 3/2.1 @ 4725kbps (core: DTS 24/48 3/2.1 @ 1509kbps); French, English Audio Descriptive: Dolby Digital 3/2.1 @ 640kbps
Subtitles: Danish, English, French, Dutch, Norwegian, Finnish, Swedish, English for the Hearing Impaired
Extras: Bookmarks; 2 Featurettes (1080p24, MPEG4 AVC, DD2.0 @ 192kbps - 38 mins)
Restrictions: Rated

(Australian rating); Region Free

The following video bitrate graph was generated by BDInfo. This is the graph for the main movie stream: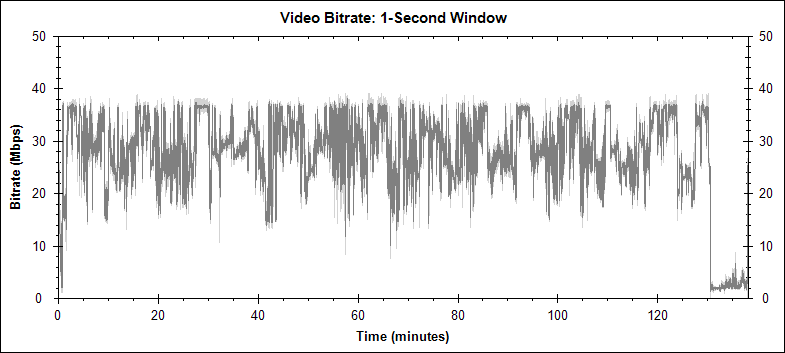 ---
&copy 2002-2011, Stephen Dawson