I'm reviewing the top model phones from three companies for audio performance. For assorted reasons
, I decided to try out the VLC player on them. The main reason was that
, as is well known, the Apple iPhone doesn't support high resolution audio. But VLC was alleged to be a free player that would play such files, although there'd be downsampling by the time of the headphone socket. After measuring the iPhone I was startled, so I repeated multiple times, to the same effect. Then I repeated using my Samsung Galaxy S6 phone with VLC installed. Note: I made sure EQ was disabled on the iPhone. The test signal was 24 bit, 96kHz: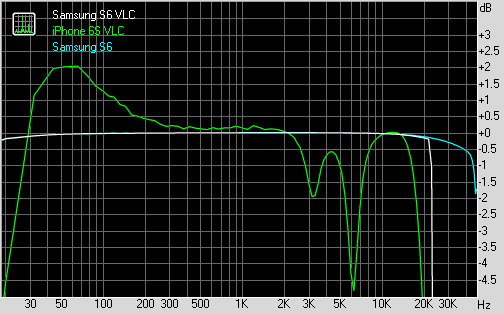 So
, the Android phone can produce (using the default music player) pretty impressive high resolution output (blue trace). But when played via VLC
, the output is chopped off a little above 20kHz. And with an iPhone 6S, VLC sends the frequency response all over the place. Weird.