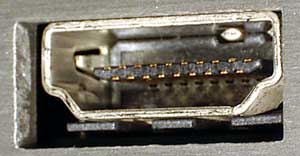 That picture to the right is the HDMI output socket of the very fancy Krell Showcase DVD. A little oddly, this doesn't actually have HDMI out installed as standard. It's an option, but the distributor put it in at my request, because I suggested that it would be difficult for my review to say nice things about the picture quality if it was restricted to mere analogue output.
So the DVD player turns up, and I already have the new Panasonic PT-AE700E DVD player ($3,899 – 3 x 1,280 x 720 pixel LCD panels) which has a HDMI input. And there I am without a HDMI cable.
So the search begins, towards the end of last week. Harvey Norman at Fyshwick? No HDMI cables there. Nor at Duratone Hi-Fi. Nor at JB Hi Fi. Nor at Millennium Audio Visual. Nor at Dick Smith Powerhouse. Nor at Jaycar. Nor at S I Computer Products.
In the end, I left a call with Convoy International, the Australian distributor for Monster Cables. On Monday, before they'd called me back, I went into Harvey Norman at Philip for another reason (cheap DVDs — Harvey Norman is getting rid of their stock at huge markdowns — not enough money in them I was told) and checked out the cables since I happened to be there. Voila! Monster Cables galore! Including, incredibly, HDMI cables, DVI cables and even the HDMI to DVI and vice versa adaptors.
I bought an adaptor, but balked at the cable: $AUS369 for two metres. JB Hi Fi had mentioned that Pioneer Electronics here sells HDMI cables (sensible, since they sell both HDMI source and display devices), so I rang my contacts there and they sent me a beaut five metre cable.
This will all change, I expect. HDMI will take over the A/V interconnect field over the next few years. It's one cable for video and audio. Both are uncompressed digital. It will simplify connections incredibly. And the plugs themselves are wonders of design. They are compact, slide in and out easily, yet hold firmly and resist being pulled out of shape by the weight of the cable.
Of course, we still need some home theatre receivers to provide HDMI switching, but surely these can't be too far off. My prediction: in five years even cheap receivers will provide HDMI switching, and cheap HDMI cables will be easy to get ahold of.
But that's in five years. For now, HDMI is hard to find, but worth it if you do. (This different mix of equipment confirms my previous tests.)