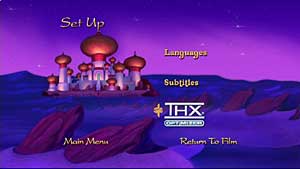 The Region 2/4 DVD of the 1992 Disney animated feature Aladdin was released a few days ago. This provides another opportunity for people to set up their audio systems and display devices properly, thanks to the inclusion of the THX Optimizer on this DVD.
Just insert Disc 1, wait for the main menu to appear, then choose 'Setup'. You will see the THX Optimizer icon. Select this, and work through the system. There's a good chance both your picture and surround performance will be improved.
Most DVD movies have subtitles, of course, for the hearing impaired. This one, though, comes with 'Descriptive Audio' for the visually impaired. Basically, a pleasant male voice describes the action as it takes place. Normally, rather pointless I would have thought, I can see its point with a musical such as this. The default audio is something called 'English 5.1 Disney Enhanced Home Theatre Mix'. There's also a standard 5.1 mix. Not sure what the difference is yet. (Nice of Disney to spell 'Theatre' correctly for the PAL version.)
It also has a couple of commentary tracks and, excellently, runs these at a mere 96 kilobits per second in mono (1.0). Why waste hi-fi bitrate levels for mere commentary, detracting from the picture quality? Both the 5.1 tracks run 448kb/s, and the 'Descriptive Audio' track uses a further 192kb/s.