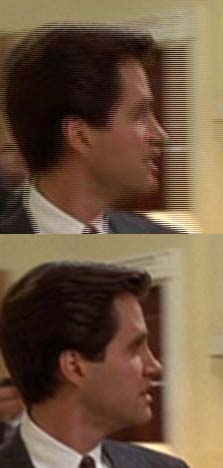 In the middle of last year I pointed out a major deficiency in the mastering of the Australian PAL version of Independence Day. Namely, for the bulk of the movie, most of the video frames are constituted by fields from adjacent film frames, producing severe interlacing problems in some setups.
Happily, a new double-disc release of this movie will be appearing in Australia shortly, eliminating this problem. The graphic here shows a frame detail from the original, and the same frame detail from the new release.
Other differences:
the new version is Region 4 only, while the previous one was Regions 2 and 4. Does this mean that Europeans are stuck with the old one?
the old version used seamless branching to provide both the original theatrical version and the extended version (which adds about eight minutes), the new release is the extended version only (147 minutes).
the old version had a couple of commentaries (one for each version of the movie) and a Dolby Digital 5.1 sound track at 384kb/s. The new version has one commentary, the DD 5.1 track is at 448kb/s and a 768kb/s DTS track is also provided.
the average video bit rate is a little lower in the new version: 4.9Mbps vs 5.33Mbps on one measure, 4.85Mbps vs 5.41Mbps on another.
Both releases are two-disc packages, but the second disc on the new release wasn't available so I don't know what's on it yet. Nevertheless, despite the slightly lower video bit rate, the new version is the one to get. It should be easy enough to tell in the shops when it comes out: look for the one with the DTS sound track.