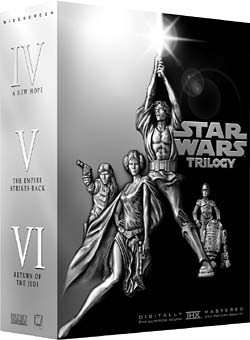 The 22nd of September 2004 will see the release in Australia of the Star Wars trilogy which, thanks to the peculiar mind of George Lucas, filmed twenty years before their chronologically earlier (and rather poorer) prequels.
All three of these movies make the IMDB Top 250 list (numbers 10, 15 and 132 as I write). Neither of the two prequels so far released have managed this. The original Star Wars (now Star Wars Episode IV: A New Hope) was, of course, ground breaking in that it was the first to truly meld science fiction special effects of the quality appearing in 2001: A Space Odyssey with a good, rollicking yarn.
From the press release:
Star Wars Episode IV: A New Hope, Episode V: The Empire Strikes Back and Episode VI: Return of the Jedi will be available in a four-disc set that includes a bonus disc filled with all-new special features — including the most comprehensive feature-length documentary ever produced about the Star Wars saga and never-before-seen footage from the making of all three films. Each of the three films in the STAR WARS TRILOGY has been digitally restored and re-mastered by THX for superior sound and picture quality.
The press release adds that Twentieth Century Fox is 'digitally restoring every single frame of film'.