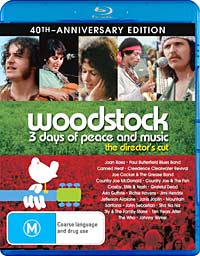 The latest issue of Australian HI-FI magazine carries my reviews of the Blu-ray versions of Sleeping Beauty and Woodstock: 3 Days of Peace and Music. As I note in the latter review:
No chapter listing is provided with this version of the disc, and the 'Scene Selector' pop up is not all that clear. You can download a PDF of the track listing from my website, from the link on the front page at www.hifi-writer.com.
I quite forgot about that, but I remembered this evening, so I've put a link on the front page. The 253kB PDF is here. When printed out, it should slip neatly under the clips inside the Blu-ray case.