April 2010 is the month in which the three Peter Jackson Lord of the Rings movies appear on Blu-ray. At this stage they are coming out as three separate discs, but I'm told that there will be a trilogy pack later in the year.
The cover art I've seen so far does not make it clear whether each movie will be appearing in a one disc or two disc set. I suspect the latter, but am seeking formal advice.
As to the disc movies themselves, here's the basic data (there are no secondary languages, no subtitles other than English, no commentary, no extras other than some trailers). All use the VC1 codec for video and are presented in their proper 2.4:1 aspect ratio. All receive the sound as DTS-HD Master Audio ES at 24 bits. 'ES' means that there is a surround back channel explicitly mixed into the two regular surround channels and this may be extracted by a decoder in a 6.1/7.1 channel system. The audio for all has a core of 24 bit DTS-ES at 1,509kbps. Info that's different for each movie:
Movie
Run time
(mins)
Video bitrate
Mbps
Audio bitrate
kbps
The Fellowship of the Ring
178
23.35
4214
The Two Towers
179
22.75
4074
The Return of the King
201
19.14
4249
US readers: New Line Cinema titles released in Australia by Roadshow Entertainment are normally identical to the US version in terms of video and main audio encode, normally performed in a Warner Bros facility. However the Australian releases are all Region B restricted.
I've done a Blu-ray vs DVD comparison for The Fellowship of the Ring. Here is an example: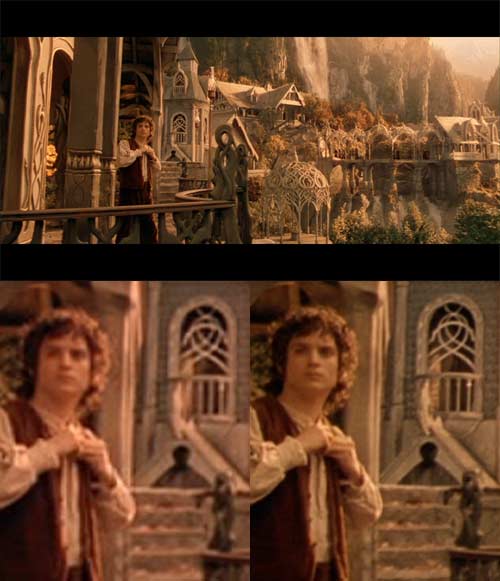 Two things stood out for me from doing this example. The first was that the DVD was remarkably good. By avoiding edge and detail enhancement and accepting a slightly softer look, Roadshow's DVD is about as good as DVD can get, even though the sheer length of the movie restricted it to an average video bitrate of about 4.45Mpbs.
The second is that the Blu-ray is better and a clear improvement, with more detail and sharpness. But by Blu-ray standards it is still a little soft. I suspect that it is the movie that is a little soft, and the Blu-ray faithfully captures this.