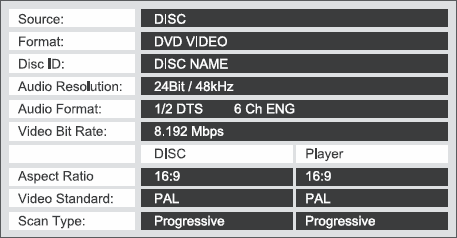 Years ago I purchased a Harman Kardon DVD-30 DVD player, primarily for its decent DVD performance combined with DVD Audio playback.
These days I primarily use an Oppo DV-980H DVD player, or an Oppo BD-83 Blu-ray player. After all, the HK doesn't have HDMI output, and its progressive scan conversion is really quite mediocre.
But I still keep it. Why? Because I'm an information nerd. The HK gives me one piece of information provided by no other device of which I'm aware. That piece of information is the 'Scan Type', which is typically either 'Progressive' or 'Interlaced'
That is the value of the flag in the video stream which purports to tell a progressive scan deinterlacer whether the video should be woven or bobbed. It is this flag which is wrong on almost all Australian and European DVDs. But without the HK DVD-30, I'd have to try to deduce that on a disc by disc basis from how the video looks. This DVD player makes that much more convenient.
The picture above is from the manual for HK's latest DVD player, the DVD-39. So it seems that Harman Kardon remains the device to use if you want this information. But, without having laid hands on the unit, whether its actual deinterlacing is good remains to be seen. It does not appear to have a force film mode, so I have my doubts.