Icon Film Distribution will soon (1 May, I think) be releasing Slumdog Millionaire on Blu-ray. My Blu-ray vs DVD comparison for this title is here. A sample: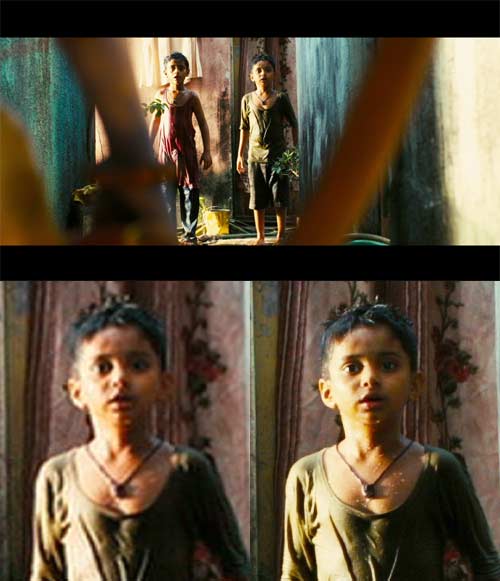 That company will also be releasing Transporter 3 on Blu-ray on 10 June 2009.
Paramount is releasing a bunch on Blu-ray over the next few weeks including Madagascar: Escape 2 Africa, an SE version of Madagascar, The Heartbreak Kid, Hotel For Dogs and Ghost Town. What I'm looking forward to is what's due in mid-June: Saturday Night Fever, Grease, Disturbia, The Truman Show, Ferris Bueller's Day Off and Ghost.
Universal is releasing The Changeling on Blu-ray on 17 June 2009 and The Unborn on Blu-ray on 1 July 2009.
Warner Bros is releasing a bunch, too, in what it calls a June Wave: American History X, Robin Hood: Prince Of Thieves (Extended Cut), 2010: The Year We Make Contact, The Assassin (this is the remake of Nikita, with Bridget Fonda and was known in the US as Point of No Return), Amadeus (Director's Cut), The Wedding Singer, A Time To Kill, Collateral Damage, Body Heat, The Gauntlet, Tango & Cash, and Above The Law.
That qualifies as a wave in my book.