When I mentioned the forthcoming Blu-ray release of Mad Max a couple of weeks ago, the view was expressed in comments that the interlacing problems with the DVD wouldn't be replicated on the Blu-ray since it would be 1080p24, and I demurred, by pointing out that it may yet be released in 1080i50.
Well, I now have my hands on it, and I am pleased to report that it is in proper 1080p24 format. Hurrah! It scores an MPEG4 AVC encode with a near 32Mbps bitrate. I haven't watched it properly, but just looking at a couple of bits on the computer monitor, it looks quite all right. Definitely very watchable. Here's a random frame (scaled down, of course):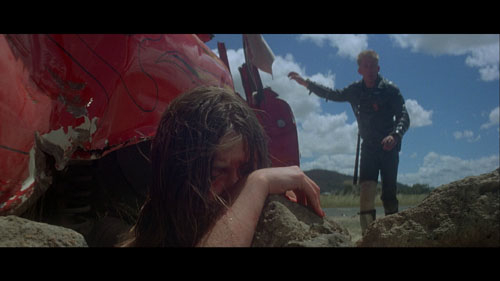 One (or perhaps two) interesting point(s): playback commences with two film company logos (the DVD doesn't start with any). First, the MGM logo, followed by the American International logo. AI was the mob that released the movie theatrically in the US way back in 1980, first dubbing it with American accents (it is disputed whether this was because it felt Americans couldn't cope with Australian accents, or whether the original sound mix was so bad that it had to be fixed). MGM was the company that released the DVD version (with the original Australian sound) in the US in 2002, so my guess is that the Blu-ray was taken from a US copy of the print.