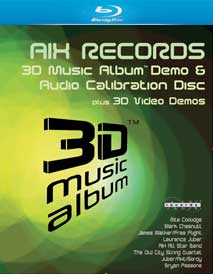 Well, here is where a blog post was supposed to go. But it got totally out of control, and turned itself into a 1,200 word article. A very interesting one I like to think. So interesting that I ought to be able to sell it.
So you won't see it here. But it does concern very useful information revealed by the disc you see to the right: the AIX Records '3D Music Album Demon & Audio Calibration Disc', which you get with new Oppo Blu-ray players or can purchase separately (go to the link).
A hint: since Dolby Digital is embedded in Dolby TrueHD audio for legacy support, but otherwise has nothing whatsoever to do with the TrueHD, then there's no particular reason why it should actually have the same program material.
Since this blog post ended up being pretty empty
, how about a giveaway? The production Blu-ray disc for Battle Royale, the controversial R-rated Japanese teenage-fight-to-the-death movie. Like The Hunger Games, but with more blood, more dead people, and that slightly strange Japanese overacting. Over 18s only, Australian postal addresses only, first request in comments. No box or slick.