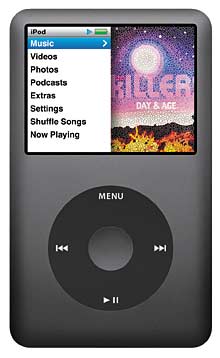 Eventually someone will sue Apple Inc in some kind of 'anti-trust' action, just as Microsoft has been sued in the past. It will be because Apple produced such a great product that it has come to dominate the market.
That product is, of course, the iPod.
The domination is so extensive that there are widely available accessories for only one range of portable audio devices: the iPod. This is a testament to Apple's brilliance, and will no doubt be held against the company one day.
Meanwhile, it leaves me in the position of needing ready access to an iPod because much of the gear I test has a dock for use with an iPod. A few years ago I approached Apple about this and obtained a long-term loan of a 5th generation iPod 60GB. When the 6th Gen version was launched, they wanted to swap it over, but instead they kindly agreed to sell it to me for a hundred dollars.
This unit still works very nicely. I use it for at least an hour every day when I go for a long walk, and use it all the time for testing various docks. But it is clear that most recent equipment has been designed with the 6G in mind, not the 5G. There are noticable operational differences between the two when used with some docking devices. For instance, here is what I wrote in my review of Onkyo's excellent ND-S1 Digital Media Transport*: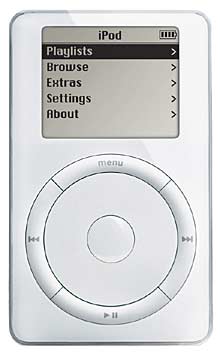 I used the unit extensively with my own Fifth Generation video iPod, and more briefly with an iPod Classic and second and third generation iPod Nanos. With the former it was rather clunky in operation, but still usable. An Onkyo splash screen took over the iPod's display. Navigation via the remote control worked on the assumption that you have programmed up playlists. Otherwise, about the only permissible navigation was cycling through albums, a rather tedious process.

However, when I pressed the 'Play/Pause' control on the remote, the iPod's own navigation facilities became available again.

With a current model iPod Classic and the Nano models, things worked more smoothly, with navigation via the iPod's controls readily available while the music was playing.
So I've approached Apple again and they've sent me a 160GB 6th Gen iPod Classic (top) on loan.
As I was walking this morning I remembered that back in early 2002 I actually reviewed the original (ie. first generation) iPod (bottom) for an insert in The Age newspaper. Let's compare the two:
 
1 Gen
6 Gen
 
Price
$895
$329
Capacity
5GB
160GB
Battery life (Audio)
10 hours
36 hours
Connection
Firewire only
USB only
Compatibility
Mac only
Windows & Mac
Dimensions
102 x 61.7 x 20.7 mm
103.5 x 61.8 mm x 10.5 mm
Weight
184 g
140 g
Screen
38.7 x 31 mm, Black text on white background, eight lines
50 x 37.5mm, Colour 320 x 240 pixels
So, in eight years the iPod has dropped to one third of its original price (taking inflation into account), and halved its thickness, and reduced its weight by nearly a quarter. Definitely an amazing shrinking machine.
But at the same time it has increased its compatibility, increased its storage capacity by 32 times, and its playing time by 3.6 times, added colour on a large screen, and added video, photo and additional audio codec support. Definitely an amazing expanding machine.
* Declaration: The local distributor, after the review was published, decided to send one of these to me to keep. It shall be extremely useful!