I went to Sydney today for the Panasonic's 2006 product launch (at Panasonic's expense). They whetted my appetite by an invitation to a small group briefing, after the main event, on Panasonic's Blu-ray strategy (I think there were about half a dozen of us there). Unfortunately I had to bail before exploring all the issues I would have liked to, or I would have missed my flight back home.
There were three really, really exciting things at the launch, and I'll get to these in a minute. First, on a more mundane level, Panasonic is releasing a new series of high resolution (ie. 720p or thereabouts) LCD and plasma TVs. It is also releasing a new, upgraded, version of its highly regarded PT-AE900 projector. The new one is called the PT-AX100 (I guess they ran out of numbers for the AE tag). Still 1,280 by 720 pixels, it mostly had detail changes. The case is no longer silver, so it looks less like a business projector. And the ANSI rating is up to 2,000. Most impressively, the RRP has fallen to $3,299. Available in October.
Now to the good stuff.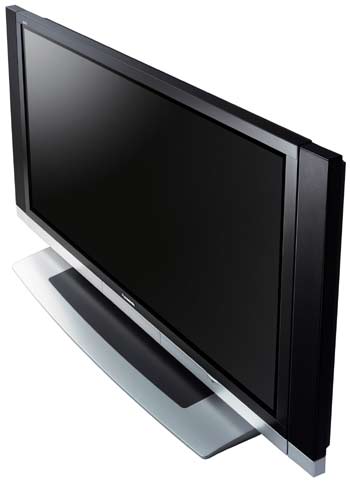 First, Panasonic is also launching next month two new DVD recorders. The DMR-EX75 and the DMR-EX85 will, respectively, have 160 and 250GB hard disk drives. What's special is that these will also have integrated digital TV tuners, and HDMI output. I wish I could tell you more, but I was so interested in the other stuff that I didn't notice this last detail about them until just now, as I was looking at the press release. I'll get ahold of one next month to review. Prices: $879 and $1,099 respectively.
Panasonic is also launching next month a new plasma display. So? How about 65 inches and full 1080p resolution? The TH-65PV600 looked very nice at the launch with a Blu-ray demo disk being run. Contrast ratio is said to be 5,000:1. It apparently has a tuner built in, but seemingly only analogue which is a bit strange. Input signal standards via HDMI include 1080/50i, 1080/60i, 1080/50p and 1080/60p, but apparently not 1080/24p. That's a problem, as I'll get to in a moment. Oh, the price? $17,499. That might jolt Pioneer a little, as its new 50 inch 1080p plasma display is $14,999.
What else was there? Oh, that's right. How about a full 1080p front projector? The PT-AE1000 is an LCD unit offering 1,920 by 1,080 pixels. They had this up and running, and unlike the Fujitsu high definition LCD projector, no screen door effect was evident, even poking my nose up to the screen. According to its spec sheet, this one will support the same input video standards as the 65 inch plasma, but adds 1080/24p. That's good news, as I'll also get to in a moment. Price is not stated yet, and the release date will be November. I'd be surprised if the selling price is over $10,000, but I'm trying to extract some kind of approximate price from Panasonic.
Finally, there was the DMP-BD10, Panasonic's Blu-ray player, destined for release in October as well. I don't think much of the styling, but who cares? It's Blu-ray! True HD movies of your choice! Well, not really, for a while anyway. 20th Century Fox was at the launch in the form of Fox's Roy Cannall, the Senior Vice President for Global Business and Technology. Several releases will being appearing in November. Can't say I think too much of the titles chosen: initially Fantastic 4 and a few others. Soon after will see Kingdom of Heaven in a >3 hour director's cut, on a dual layer (ie. 50GB) disc with 5.1 channel lossless audio. Also there will be Ice Age 2, with 24 bit lossless audio.

The DMP-BD10 will not initially support the DTS HD or Dolby Digital True HD audio standards, but a firmware upgrade is expected to be available fairly soon to provide that support. Price: $2,749.
But there could be a problem with all this. The Blu-ray demo stuff they had on (primarily clips from Kingdom of Heaven and Ice Age 2) was absolutely awe-inspiring, in its detail, depth, and colour discrimination, both through the 65 inch plasma and the HD LCD projector. But there was one major problem with the picture on both display devices: the pans were jerky. It took thirty seconds for the penny to drop with yours truly: the Blu-ray player was delivering the video as 1080/60p. But the films were shot at 24 frames per second. How to convert 24 frames per second to 60?
Let us say that the first six film frames are labelled A, B, C, D, E and F. This is how they are delivered at 60p: AAABBCCCDDEEEFF. That is, a frame is shown three times, the next frame twice, the third frame three times, the fourth twice, and so on. On a little glass tube TV, you would probably not, or barely, notice this. But blow the picture up to a 65 inch plasma, or even more so to a 120-ish inch projection screen, combine it with the incredible sharpness offered by 1080, and the jerkiness is bleeding obvious and most offputting.
That's the weakness of the DMP-BD10. It offers all the usual output options, plus 1080/50p and 1080/60p, but not 1080/24p. I expect once it starts getting reviewed in the US it will attract adverse comment on this. With 24p output, there are no cadence problems.
But will that be a problem for us? It all depends on whether Australian Blu-ray movies are released in 60 or 50 hertz versions. That's one question I didn't get a chance to ask, having to catch a plane.
Incidentally, don't expect to import US DVDs. We will be Region B, along with Africa and Europe. The Americas and Japan will be Region A. Asia, including Russia, will be Region C. Expect the region protection scheme to be fairly robust, at least for a while.