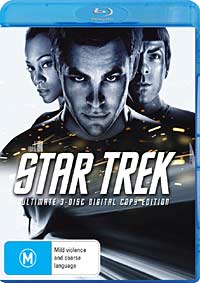 Consider marking 29 October down in your diary. That's the date that the new Star Trek movie is appearing on Blu-ray (and on DVD, but isn't it better to watch it properly?)
The Blu-ray version is a special three disc package. One disc is essentially for the movie alone. The file on the disc which constitutes the movie is 39.31GB in size, and is 98.4% of the total content of the disc.
Don't worry, the extras (most in HD) occupy the second disc, while the third disc is a DVD containing a Windows/Mac/iPod/XBox compatible 'Digital Copy'.
I saw this movie on an airplane a couple of months ago, so I haven't experienced it properly. I expect to do that tonight. The story survived even the airplane experience and the movie presently resides at number 130 on the IMDB Top 250 list.
As for the Blu-ray rendition, I have just scanned it using BDInfo 0.5.3 and it tells me that the sound scores 24 bit Dolby TrueHD lossless treatment, with an average bitrate of a quite impressive 3603kbps. The average bitrate for the MPEG4 AVC video is 32.699Mbps, so the rendition of the picture should be faithful to the movie. This is the video bitrate graph, produced by BDInfo: