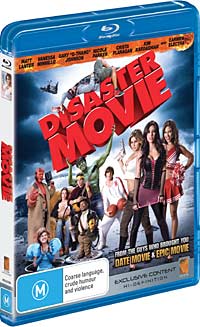 In 2008 a spoof too far was released. Called Disaster Movie, it now resides at #22 of the Internet Movie Database 'Bottom 100'.
Now you, too, can share in the joy of this movie (not having seen any of them, I didn't find it too bad, and certainly worth more than the 1.6/10 it presently scores). I have a copy of this disc on Blu-ray to give away. Legit disc, but no Blu-ray box or slick.
First to ask for it in comments gets it. I'll email you for a snail mail address.
Pretty decent picture quality, too. See my Blu-ray vs DVD comparison for this movie.
I have a few other discs that I will be giving away over coming days, so it might be worth checking in occasionally.