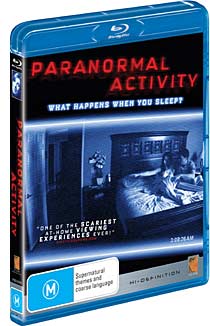 Icon Film Distribution is releasing Paranormal Activity in Australia on Blu-ray and DVD on 2 April. This is a film that cost about $US15,000 to make and has since done about $US100 million at the box office. Pretty good ROI!
The Blu-ray version has a 6.5 minute featurette and a 4.5 minute alternate ending. The disc also uses seamless branching so that you can watch the whole movie either in the theatrical version or in the version with the alternate ending. As it happens, different files are used on the disc for the alternate ending provided as the special extra, and the seamless insert for the alternate version of the movie, even though their contents are identical (I did a bit-level file compare to confirm this).
The disc is Region B and the US version is Region A coded. They are clearly very different encodes. Here's the data for the Australian version (which I've put on the AVS Forum for Blu-ray specifications) and here's the data for the US version. Even the lengths seem to be different, but this is probably due to different logos for the distribution companies. Clearly the Australian version gets a much higher average video bitrate.
Note in particular the audio. Both use DTS-HD Master Audio 5.1 with 24 bits of resolution at 48kHz sampling. But the Australian version has an average bitrate of 2,928kbps for the theatrical version, and 2,956kbps for the alternate one. The US numbers are 3,678kbps and 3,680kbps respectively.
I suppose it's possible that these are entirely different mixes, but that would seem unlikely. I think it's likely that almost all the difference goes to the different approaches to the DTS core. The Australian version uses 768kbps, while the US version uses the more common 1,509kbps.
Someone has previously noted (here?, or elsewhere?) that the use of the smaller core is much more efficient. Of course, that also means that those using legacy equipment and thus relying on the DTS core may get lower quality sound. Still, this could be a good trick if space is tight.