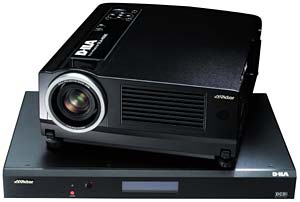 Okay, okay. My favourite product of the show isn't available just yet. It is a new projector — the DLA-HD2K — from JVC using its in-house developed D-ILA projection panel (this is a form of Liquid Crystal on Silicon — LCOS — which means it is reflective rather than transmissive. That in turn means very thin pixel boundaries, for virtually no screen door effect).
What sets this projector apart is that it is true high definition: a full 1,920 pixels horizontally by 1,080 vertically, in 16:9 widescreen format. All those pixels are stuffed onto a D-ILA panel measuring 0.8 inches (20.32mm), or not much larger than the Mustang DMDs which offer 1,280 by 720 pixels. The projector uses three of these, one for each colour, whereas most DLP projectors make do with one panel and a colour wheel. JVC had four D-ILA panels on display, up to a 1.7 inch model that offers 3,840 by 2,048 pixels!
But back to this new HD projector. JVC has worked with Faroudja to develop suitable scaling technology. The projector has actually been designed as a two-box unit. The projector itself has a single input (plus a few control sockets) consisting of a DVI socket. All the normal inputs are on a separate slim box of electronics, which also contains the Faroundja DCDi scaling circuits. Fortunately, this also has a DVI input for support for forthcoming DVD players and digital TV receivers.
So how well did it work? JVC had a theatrette in the centre of its display stand and a high definition digital tape with a couple of movie trailers. Unfortunately I couldn't sit as close to the screen as I wanted to, but it was still a big picture from my vantage. On this source the picture was absolutely impeccable on the issues I was looking for.

What I was looking for was resolution-related issues. There was no visible screen door effect at all. None. Not a skerrick. One of the least satisfactory aspects of all digital projectors is the sometime squiggles as a tiny detail or a boundary between projected objects is difficult for the electronics to allocate to particular pixels, resulting in an unsteadiness and slight flicker as these details wobble between pixels, producing a squiggly effect. There was absolutely none of this.
One thing I forgot to pay attention to until it was too late was black levels, but my impression was that they were very deep and dark indeed. Indeed, colour performance was both rich and natural, particularly on greenery.
In short, this projector, with its high definition source, produced a far better result than I have ever seen in a real cinema, let alone a home theatre setup. Focus incredibly sharp, yet the overall picture amazingly smooth.
How well it works with standard definition material remains to be seen. But, wow, I'm looking forward to this one!
BTW, price has not been determined as yet. But I would expect it to start at something like $US20,000.
UPDATE (Thursday, 16 October 2003, 9:19 am): I emailed some questions on this projector to Mr Akira (Alex) Kobayashi at JVC in Japan. Mr Kobayashi tells me that the model number for this projector is not finally settled, nor are all the specifications. However the unit at the show was delivering around 600 ANSI lumens (just about the right level for most home cinema applications). More importantly, it delivered a contrast ratio of 2,200:1. This is a vast improvement over the DLA-SX21 and puts it right up there in DLP territory. No wonder I didn't think to look at the black levels. You don't think of these things unless something triggers your attention, like poor performance. But in this case the performance was great.