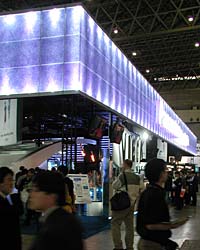 Gee I love overnight flights, followed by a local flight that finally gets me home just a bit before lunch. Plane out of Tokyo was chockablock, so not much room for stretching there.
Our first day in Tokyo was largely spent at CEATEC (Combined Exhibition of Advanced Technologies). A massive display it was, but perhaps only a quarter of it was devoted to home entertainment technology. The rest: communications and components.
There were big stands by Panasonic, Sony, Sharp, Sanyo, Hitachi, JVC and Pioneer. The only non-Japanese home entertainment company stand was a smallish one for Bose. There were also three stands devoted to DVD recording technology: one for DVD-RAM, one for DVD+RW/R and one for DVD-RW/R. There were also stands for SD (Secure Digital flash memory cards) and Japan's numerous high definition broadcasters. Noticably absent were other strong Japanese brands like Yamaha, Marantz, Denon and Onkyo. NEC was there, but more in an info-tech than home entertainment capacity.
Most of the major brands were focusing on panel displays: plasma and LCD. Most had a Blu-ray player with high definition stuff playing. Most had a 3-D display of some kind. Panasonic's version used a fairly large screen, rear projection, right-angled polarisation of the light from the two projectors showing the slightly different angles, and polarised eyewear for viewing. It actually looked very good. Rather than really flashy stuff, Panasonic used a recent baseball game for the demonstration. The others used small LCD panels that required no eyewear to work. These appeared to work by using an overlay that allowed only the appropriate portion of the image to seen by each eye. These tended to produce a rippling effect if you moved sideways while watching, which was absent in Panasonic's effort. Both, though, had a reasonably restricted viewing angle.
My product pick of the show? Read the entry above.