Over on the AVS Forum Blu-ray Audio and Video Specifications Thread, we whinge, rightly, about average video bitrates of less than 20Mbps, sometimes even less than 15Mbps, on Blu-ray.
Still we should keep things in perspective. Apparently the BBC HD Service reduced its VBR from 19Mbps, to 16Mbps and, now, to 9.7Mbps. This is MPEG4 AVC, I understand, at 1080i50, but still that's a shocker. Viewers complained. The Head of BBC HD, BBC Vision, Danielle Nagler, responded by patting everyone on the hand in a kindly manner, and saying that of course the reduction didn't damage picture quality. If you see a problem, well, it's all in your head:
We all need to accept that a great deal of our perception of HD picture quality is driven by our pre-conceptions. Some Dutch research published last month (the report I saw was from Informa, dated 28 Oct 09) highlights the extent to which views on picture quality are driven by expectation and emotion. … I have no doubt that for those who believe the bitrate cut has killed picture quality, none of the changes to the encoders that we will make to address the problems which we know are there will make any difference, unless they go hand in hand with an announcement that we've upped the bitrate.
I would not necessarily expect that the head of BBC HD would be a technical expert. Management expertise is probably more relevant to the job. But she should not pose as one either. Just because the clueless (those who think SDTV seen on a high res panel is HDTV) can't see the difference, doesn't mean that those who do see a difference are wrong.
In fact, low bitrate 'broadcast' type transmissions (including those constrained by cable delivery) are even worse than Blu-rays with the same average. HDTV and so on has to be approximately constant in its bitrate, whereas a Blu-ray can have a wide variation in its bitrate over time. Consider, for example, a low average bitrate title such as Blood Diamond. This has to make do with just 12.72 Mbps on average. But look at the graph showing what the bitrate is from second to second over the course of the movie: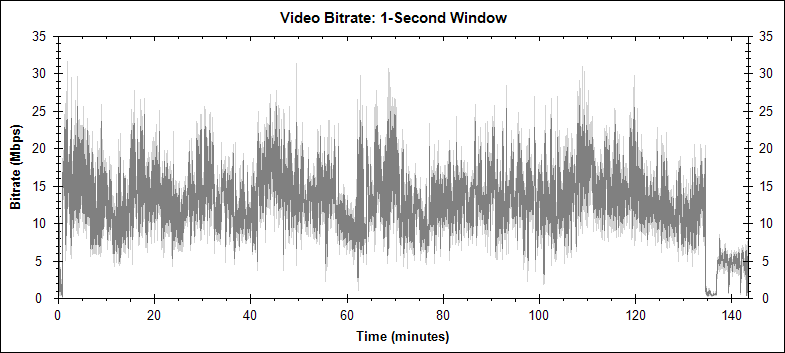 Modern video compression is less efficient when there is a lot of movement from frame to frame. Blood Diamond has a relatively high video bitrate for significant sections — 18 to 20Mbps, and peaking as high as 30Mbps. The constrained pipe of broadcast TV or cable does not permit those wide ranges. This movie would look significantly better on Blu-ray than on HDTV, even if the average bitrate were identical.
I am not a bitrate supremacist. I disagree with those who insist that an 18Mbps Blu-ray isn't worth having, or that 28Mbps is necessary better, visually, than 20Mbps. But you get to a low enough figure, and you get crap. My bet is that 9.7Mbps is below that point, at least on some material.