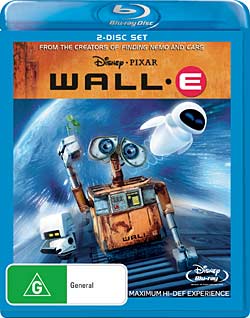 Disney advises that it will be releasing its latest animated marvel, Wall-e, on DVD and Blu-ray on 14 January 2009.
Here's what it says about the extras:
Single Disc DVD:
Presto – A Pixar Animation Studios original theatrical short about a star magician's ego that provokes some clever revenge from his neglected rabbit costar.
Animation Sound Design: Building Worlds from The Sound Up – Ben Burtt, an Oscar-winning sound designer, introduces viewers to the art of sound design using examples from WALL•E and historic footage of the early Disney sound effects masters at work.
Geek-o-Rama – Pixar artists (some of the biggest geeks in the universe!) confess how their science fiction, fantasy and comic book influences inspired and drove the creation of WALL•E.
Audio Commentary by WALL•E director Andrew Stanton (Finding Nemo).
Deleted Scenes
Easter Eggs
Blu-ray Bonus Features:
Robots – Find out everything about the film's robot heroes, including hilarious web vignettes, the names and functions of all of WALL•E's malfunctioning misfit robot friends and an interactive storybook packed with child-friendly challenges.
Behind the Scenes – Six exclusive featurettes give fans an insider's view of the making of WALL•E, including the film's visual design, character development and musical score, plus the story behind the special effects challenges and a look at building the robot characters that populate the film.
Buy'n'Large Shorts – Straight from the BnL archives, five revealing short films provide insight into the inner workings of the company, from its humble beginnings to the intergalactic plan that launched EVE into space. Learn how to operate the Axiom, find out about the company's line of "robots "for every need" and hear the story behind the Earth Exit Plan.
The Pixar Story by Leslie Iwerks – An award-winning, fascinating documentary account of the founding and early success of one of the most revolutionary animation company in the world featuring John Lasseter, Steve Jobs and many other groundbreaking Pixar innovators from the beginning to the present.
Early WALL•E development test
Cine-Explore – A fascinating viewing option in which filmmakers comment on WALL•E, accompanied by behind-the-scenes visuals, in sync with the movie.
Geek Track – An additional commentary full of obscure references, little known trivia and lively sci-fi discussion, this pop-up silhouette in-movie feature gives viewers a peek inside the minds of some of the more passionate geeks at Pixar.
The Axiom Arcade – A retro suite of video games with a Wall•E twist, including Eve's Bot Blaster, Wall•E's Dodge & Dock, M-O's Mop-up Madness and Burn•E's Break Through.
3D Set Fly-Throughs – Cutaway illustrations of the Axiom and Earth sets provides viewer access to HD set fly-throughs from ten of the film's most detailed locations.