It was recently time for a retirement. Back in September 2000 I purchased a digital camera as an aide in my writing work. It was an Olympus C-3030Z. Three megapixels, decent quality optics, it cost around $2,000.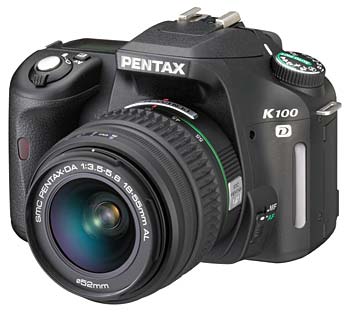 Since then it has been to Bangkok, Hong Kong, Singapore, Los Angeles, London, Paris, Tokyo, Osaka, and a few other places, and served me well. But it was always a bit limited. I learned photography on a Pentax K1000 SLR (with which my eldest daughter is now also learning photography). Fully manual, it is the kind of camera you could still use after civilisation collapses, requiring no batteries at all.
The Olympus was also getting a little cranky, had developed three crook pixels (which isn't bad out of three million and six years) and had always been a demon on batteries.
So I did my research and reverted to Pentax, in this case the K100D digital SLR. This was available as a package with a couple of Sigma lenses for around $AUS1,100. Why choose Pentax rather than Olympus or Canon or Nikon? Two reasons. The first is that it was cheaper. The second was that the closest price competition, from Olympus, uses a proprietary rechargable battery pack. I always feel far more comfortable knowing that, at a pinch, I can buy a stack of AAs just about anywhere in the world to keep on going.
Of course I quickly added a couple of new sets of NiMH batteries (it takes four, and seems to deliver about 300 to 400 shots on a fresh charge), a backup set of Lithium batteries and a couple of SD memory cards. Between them, the 1GB and 2GB cards are good for around a thousand photos at the highest quality JPEG setting (good enough for my purposes, and the RAW format used by Pentax seems to be a peculiar, non-standard one).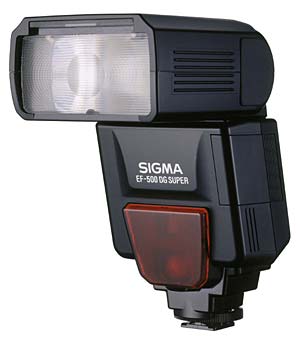 And then there was the issue of a flash. The K100D has a built-in pop up flash, which is okay I suppose in an emergency. But it is just no good at all for taking pictures of home entertainment equipment, producing bright reflections and such. A flash attached to the hot shoe, fitted with a swingable head, seemed to be the answer.
So I made some more enquiries. Pentax makes a flash designed to work nicely with the K100D, but this was out of the question. Few shops carried it (one said that no-one buys it because it is too expensive), and the going price was upwards of $AU700. However Sigma makes flashes for most camera brands (the flash is the same, but the hot shoe is different to match the proprietary contacts), including the Pentax *ist and the K100D. The model is EF-500DGST.
This offers proper Through-The-Lens metering, a low light focus assist, red-eye reduction pre-flash, automatic zoom (28mm to 105mm for 35mm film camera lenses) and a flash head that both swings up (and down a little for macro shots) and sideways so that you can bounce the flash for diffuse lighting. Just what I needed.
As it happened, Ted's Camera Stores had a special on the flash: $AUS199 instead of the usual $299 (or more at some shops). So I raced in and bought one. And that's when things went weird.
Once I got home, the flash worked beautifully … when it worked at all. Oh, it always flashed, but sometime the exposure was so dark as to make me think that the sync failed and it had flashed either before the shutter had opened, or after it had closed.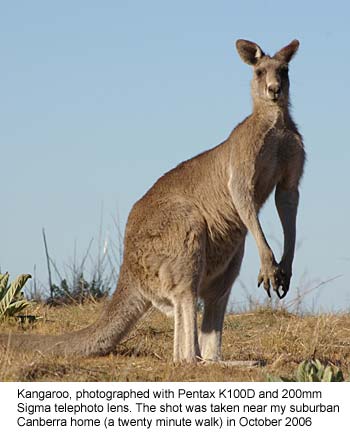 So then I did some experiments. The flash always worked properly if the aperture on either lens was set to less than F4.5. It also always worked properly if the head was significantly swivelled, or significantly swung up. But if pointed directly at the subject, with an aperture of F4.5 or greater, it just would not work at all. How's that for strange!
I reluctantly returned the flash and got my money back. Then I contact the distributor, which imports both Pentax and Sigma products. Their service department said promptly that this was a known issue. Both the camera and the flash needed to have their firmware upgraded. The Pentax I could do myself with a download (to version 1.1 from 1.0), but the flash had to have its done in their workshop.
I rang Ted's and the chap who had been dealing with me regarding the flash agreed to send it back to Melbourne. A few days later it was done, and now it works perfectly.
Anyway, I like this camera a great deal, and the flash allows me to capture equipment shots that were always beyond the capability of the Olympus C-3030Z. But if you are contemplating this combo, get an assurance that both products have the appropriate firmware, and try them out together in the shop.
Now all I need is a cable to allow me to mount the flash away from the camera. Pentax makes the cable (and the attachments for either end for connecting to the camera's hot shoe and the base of the flash), but this was close to $AUS300. Ouch!