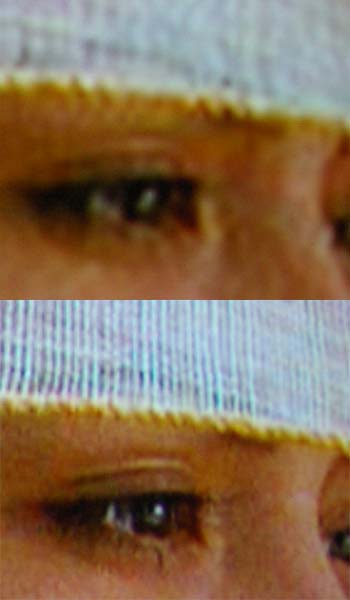 Well, judging by the detail of the pictures shown to the right, it most certainly looks like Blu-ray is much better than DVD. The discs concerned are the Region 4 DVD of A Knight's Tale and the Blu-ray version thereof. The top picture is, of course, the DVD, with a close detail of a scene around 38:01 into the movie (it's a little later with the Blu-ray version since this operates at 60 hertz and, therefore, the timing is accurate).
In both cases the picture was paused. I had the DVD player, a Denon DVD-S52, set to 'Frame' for its still mode to ensure that it wasn't halving the vertical picture resolution when it was paused (DVD players do this if they think that the picture is interlaced, and since almost all PAL discs are incorrectly flagged 'interlaced', they do just that). The Blu-ray player was the Panasonic DMP-BD10. In both cases, the player was connected to the projector with a HDMI cable. The output of the Blu-ray player was 1080p, while that of the DVD player was 576p.
Hah, gotcha, you may say. If the DVD player was scaling up to 1080p, then the picture quality would be better. But I'm afraid not. I initially used the new Denon DVD-2930 for the DVD shot, with its output set to 1080p via HDMI. But this produced an even softer, less detailed image than the Panasonic DVD player. The reason I switched was that I had intended to ensure that the Denon was in frame still mode, but couldn't find an option in its setup menu for that. Thus the swap.
The projector was the new Panasonic PT-AE1000E, a 1,920 by 1,080 LCD projector which retails for $AUS7,699. That's a fine projector indeed.
I took the photos with my new Pentax K100D digital SLR, tripod mounted, using a remote shutter release. The exposure was around a tenth of a second.