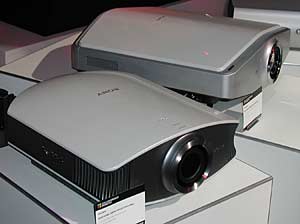 I went to the Sony Experience expo yesterday in Sydney. Some interesting new stuff was shown. The new range of home theatre receivers are going to have nicely organised, and attractively designed, on screen menus instead of the current interminable lists of options. Plus they are going to decode the enhanced audio standards that will be on Blu-ray and HD DVD discs.
But of particular interest was the VPL-VW50 projector (pictured) which was sort of on display. 'Sort of' because the model that was there was actually made of wood, being a mere mockup. So why bother mentioning it? Two reasons. First, it is an SXRD projector (Sony's version of LCoS) with true high definition resolution: 1,920 by 1,080 pixels. Second, its model number ends in 50. That's important because that means it will be cheaper than the $AUS15,000 VPL-VW100. Sony could give no hint of the price, but did confirm to me that it will be positioned under the VW100. I wouldn't be surprised to see it going for around $10,000, or maybe even a little less. That will make the competition sit up and take notice, and bring true HD front projection within the budget of many more people.
They also had a number of true HD LCD TVs, and an 1080 RPTV also based on SXRD technology. This last was notable for having by far the best viewing angle of any RPTV I've yet seen. Perhaps there is life in the technology yet.
I've previously reviewed the VPL-VW100 projector, but there's something of a difference between having it on my 212cm screen, and in Sony's demo room on a 250 inch (6.35 metre screen). Even though I sat only about four metres away from the screen, driven with a Blu-ray demo disc, the quality was at least as good as anything you see in a real cinema: super smooth and detailed. I love it.
Oh, there was maybe one more reason for mentioning the VPL-VW50 — apparently this was the first ever time it had been placed on any kind of public display anywhere in the world. So I guess this is a kind of a scoop. The product is due for release in October this year.