Yesterday I went to Sydney, courtesy of Sony, to see its new line of Blu-ray players and some of the stuff it's doing with Blu-ray discs.
First, the players. There are three models: the BDP-S360, BDP-S560 and the BDP-S760. They are priced, respectively, at $449, $549 and $729. The 7.1 channel analogue outputs move from the S5xx to the S7xx. All three have multichannel decoding of all formats, Sony says (hopefully without the DTS-HD Master Audio confusion of the previous models). All three are full BD-Live (Profile 2.0) players. The two more expensive models get, in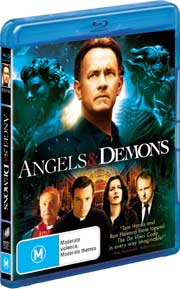 addition to the persistent storage USB port on the rear, a front panel USB port for photo display. They also support photos from DLNA servers over a home network.
Most importantly, the two more expensive models also feature wireless networking, so you can use BD-Live without having to traipse a network cable to your home entertainment room. The S760 is the first Blu-ray player I've seen with a headphone output, and it provides a surround effect using a Sony proprietary DSP.
Naturally I shall be reviewing as many of these as possible as soon as possible. Sony has also got out some BD home theatre systems for those interested in such things. Check Sony's web site for those (although the new ones aren't there yet as I write).
Also on the BD-Live front, Sony Pictures is releasing Angels and Demons on Blu-ray in October. Like The Da Vinci Code, this will be in an extended version, but unlike the first installment, it will also have the original theatrical release.
It also has some BD-Live features. The most interesting is a new one called 'movieIQ'. This provides a hide-able overlay which displays movie information drawn live from Gracenote, allowing you to find out who the actors are, along with their bios and so on. I get the impression it's a bit like hooking into the Internet Movie Database, but on-screen while the movie is playing.
That's a BD-Live feature that has a great deal of promise!
Assuming, of course, that Sony Pictures Home Entertainment solves some problems with its BD-Live logon process. From my forthcoming Sound and Image review of The Da Vinci Code:
There is also a BD-Live 'Cinechat' feature, which is supposed to allow you to 'chat' with others over the Internet while the movie's playing. Perhaps, but I couldn't register because at some point in the past I've registered with Sony, specifying my email address. It would not let me re-register with that email address, nor did it (either via the disc, or the Cinechat website) seem to have any provision for a forgotten password.
I've just tried once again to register via the disc. Here's the result:

I don't have another email address. Clearly, some work is needed here.