I undertook on the Beyonwiz forum to explore further the output characteristics of the Beyonwiz video section. I have held off doing this for a few days because what I wanted to do was compare its 576p and 1080i output with 576i output of the video direct into a decent quality display device. But I didn't have any ready way to deliver 576i over HDMI to the Epson EMP-TW1000 projector that I'm using.
However, today I was testing the Panasonic DMR-EX77 DVD recorder and, much to my surprise, I discovered that Panasonic has implemented 576i output over HDMI. Not that it needs it all that much because it has pretty good deinterlacing itself. Well done Panasonic.
Anyway, I burnt my test video to a DVD so I could deliver it that way. I took photos of the bottom right corner of the test pattern (shown by the red rectangle) with the video delivered in three ways.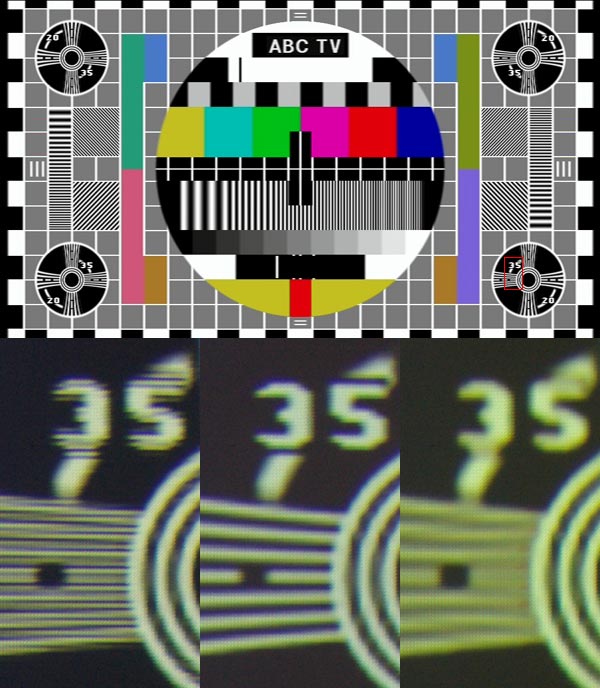 The detail at the left is the Beyonwiz DP-P1 outputting this video at 1080i over HDMI. The one on the right is this unit outputting it at 576p. The one in the middle is the Panasonic outputting the video at 576i, and letting the Epson do the deinterlacing.
This is why I think a 576i output mode over HDMI is so important. (Don't worry about the colour and contrast differences. I think that was my camera. I'm only concerned with the detail here.)
Let me hasten to add that I think that all HDTV set top boxes produce similar problems, except for the Topfield TF7000PVRt. It is the exception only because it actually does offer 576i out.