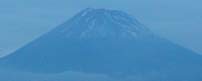 Right now I'm sitting on the Bullet Train shooting from Osaka to Tokyo. This morning was spent doing Panasonic stuff. This afternoon was spent doing Panasonic stuff. Oh, and so will tomorrow morning. But tomorrow arvo we get released for a few hours to wander around CEATEC (Combined Exhibition of Advanced Technologies).
The first event this morning was at the 'Konosuke Matsushita Memorial Hall', which traces the life history (inextricably linked with his product line) of the aforementioned gentleman. Very inspirational. Think the technical and business acumen of a Bill Gates and transplant it to Japan, 1918, when the 24 year old Matsushita began his own business fabricating extension plugs and double adaptors for the then source of electricity in most houses: the electric light socket. By dint of efficient production methods and low costs (he halved the width of the stairs in his small two story house to make more room, rather than move to more expensive premises), he was able to undercut the competition by 30%.
Next thing you know it's 2003 and the company is doing sales of more than $US61.5 billion.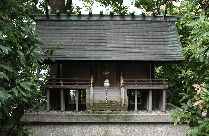 This was followed by the company's museum of Science and Technology in the middle of its huge multi-acre corporate complex in Osaka. Lots of gadgets, of interest: a fuel cell electrical generator intended for release next year. Don't think many will be sold. Target price around $AUS7,000, power output around 1.3kW. Can't even run a heater with that.
Panasonic's right behind SD (Secure Digital flash RAM cards). Apparently 1GB cards are coming out next year, and they expect them to be up to 16GB by 2007.
After lunch, we got to ask a few questions of Mr Yuiko Shohtoku, the Executive Vice President of Matsushita Electrical Company with responsibility for all aspects of the business' operations outside Japan.
The company is going to be aggressively fighting back against the inroads made in recent years by Korean companies LG and Samsung. He seemed unimpressed about what he considered to be their poaching of former Japanese executives and other unseemly activities.
The company is in the process of killing the 'National' brandname wherever it still exists (appliances in Japan and Asia mostly) and moving those product lines to the 'Panasonic' brand name, with a smattering of new premium products to make the point. 'Technics' shall remain as an 'audiophile' brand (although I haven't seen any Technics products in Australia that I would regard as even approaching audiophile quality).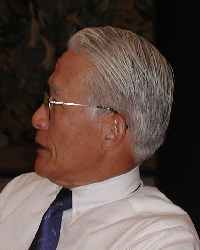 I asked whether the company had plans to introduce support into its DVD recorders for DVD-RW or DVD+RW, and into its players for SACD. On both he pulled down the shutters. DVD-RAM is technically better than the re-writable alternatives, has a huge share of the Japanese market (2/3rds) and close to 30% even in Europe (the home of DVD+RW). No way.
SACD: he says DVD-Audio is better (I agree, and agreed with him aloud when he asked my view). Futher, he says, DVD-A started after SACD but now has as many titles. I pointed out that consumers want a single player to handle all their discs, and that several of Panasonic's competitors offered such players. But he wasn't interested. Could it be that Panasonic, seeing the end of CD licensing fees coming, just doesn't want to have to pay any more licensing fees to Sony?
UPDATE (Saturday, 11 October 2003, 5:05 pm): On Thursday Panasonic advised that it will, in fact, be retaining the 'National' brand name for its appliances (ie. washing machines, vacuum cleaners, toasters etc) in Japan, while abolishing it everywhere else.