I've noticed something strange about the way Philips' DVDR890 DVD recorder burns DVD+Rs. Here's the first couple of lines of a DOS DIR /S command, when a duly finalised Verbatim DVD+R is in my computer's DVD-ROM drive:
 Volume in drive F is PHILIPS_DVD_VR
 Volume Serial Number is 6533-3D0C
And here's the same command on a finalised TDK DVD+R:
 Volume in drive F is PHILIPS_DVD_VR
 Volume Serial Number is 6533-3D0C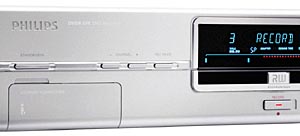 Notice anything? Kind of identical, aren't they. Both of these discs contain recordings of broadcast TV programs made at different times. Both were recorded on a Philips DVDR890. And, as it happens, when I checked a couple of other discs burnt on the same machine, they also were the same. If any of you has one of these recorders which you've used to burn a DVD+R, could you advise me what the label and volume serial number of the resulting disc is please? (scdawson [at] hifi-writer.com) It could be that each recorder applies a different serial number.
For the most part this isn't a problem. But it can cause a couple of slight inconveniences. For example, if I place one such disc in my DVD-ROM drive straight after another one, the computer thinks it's the same disc. I have to stick in something else in between the two to make sure the computer re-reads the disc.
For another, if I have stopped watching one half-way through on, say, a Sony DVD player that memorises the last played-to position, then the next time I stick another DVD+R into the same Sony player, it commences play from that same timing point, thinking it's the same disc.