Well, here I am in suburban Canberra on a modestly effective ADSL2+ connection with Bigpond. I'm reviewing a nice new LG TV which can, amongst other things, connect to Bigpond Movies. Here's what it has to say about my Internet connection: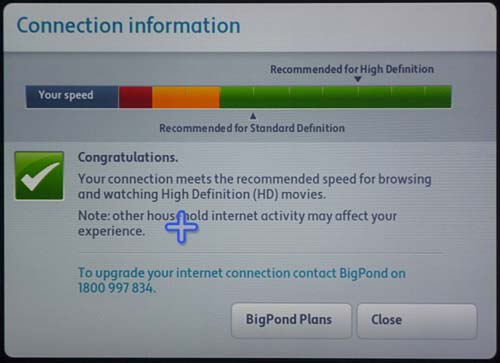 Yes, apparently it is quite good enough for high definition movies (where high definition is loosely defined, I wouldn't be expecting Blu-ray quality!) Like a few million other Australians. There are those outside the reach of ADSL2+, for sure, but I don't quite understand why it is necessary to rip out a working system, rather than simply extending its reach.
I know Senator Conroy reckons we'll all be able to perform surgery upon each other thanks to the miracle of high speed IP video feeds over the NBN, but somehow I just don't quite see it.
Update (a couple of minutes later): According to this site, my connection speed is about 5,300kps (kbps?), or a bit below the average for Australians who have tried the meter.