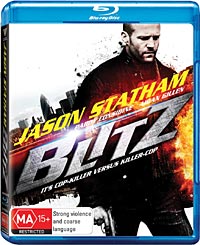 I've just been analyzing the forthcoming Roadshow Entertainment Blu-ray of the new Jason Stratham action movie, Blitz (available 22 September), and noticed something different. As with many such discs it opens with several trailers. But the trailers aren't for Blu-ray discs presently or very soon to be available, but for movies now on at the cinema, or yet to be released.
They are Conan the Barbarian, Abduction and a movie on the making of Dave Stewart's 'The Blackbird Diaries' CD.
Makes sense. A Blu-ray like this will be sold over time so it acts as a promotion both for the cinema appearances of the movies and then, later, for their disc versions. Abduction looks interesting. An action mystery about a young man who apparently isn't who he thought he was (shades, perhaps, of Wanted?)
I'll have to crank up the the old HD DVD player and watch the director's previous movie, Four Brothers, in preparation.