Let's dig a little deeper into this whole 'Digital Copy' (DC) thing, discussed in the previous post.
My brother, presently holidaying in Austria, has written to me suggesting that I 'should install a Firefox or Maxthon browser and set up a proxy server to access the DC movies.' I'm prepared to go to reasonable lengths to find out the information that I need, or to explore the intricacies of some interesting piece of technology. But when it comes to using consumer orientated hardware and software, I play dumb. I try to follow the instructions as best I can. What more can you reasonably ask of the consumer? So I persevere with Internet Explorer. I don't use proxy servers.
Anyway, I've already seen this wonderful movie … twice! On Blu-ray. I highly recommend the movie to readers. But I have no desire to see it on a portable device. I just want to find out if a consumer can if he or she wishes to.
Now, what is this 'Digital Copy'? The disc it is on is not a DVD-Video, but a DVD ROM. That is, all it contains is a set of computer files and folders. The disc is single layer and carries 2.71GB of data. In its root directory is an 'Autorun.inf' file which Windows automatically runs on inserting the disc. This in turn invokes a program called 'Menu.exe', a 3MB program which brings the menu up on your screen and manages the installation process.
The actual video data resides in the DVDROM/Media folder. There appear to be three copies there:
Juno_PC_NTSC.wmv

1.09GB — this appears to be the Windows Media format version intended for PC viewing.

Juno_PORT_NTSC.wmv

0.498GB — this appears to be the Windows Media format version intended for portable device viewing.

FeatureMovie

1.11GB — this file has no extension, but it's so big it is also likely to be a video file, presumably in some format compatible with iTunes and the iPod. iTunes doesn't pay too much attention to file names in general, so it isn't surprising that this file doesn't have a recognisable media extension on it.
Since I was digging around in the contents of the disc anyway, I decided to double click on the first of these. Windows Media Player came up and sought my permission to download some necessary extensions to play the file. I granted permission. Downloads and installations occurred, and then: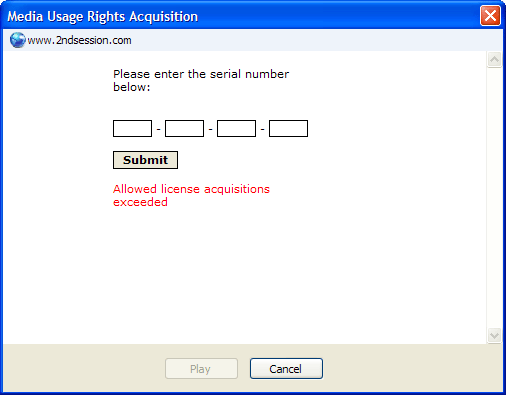 I have altered that screen shot only to white out the serial number. Presumably this means that you're only allowed to get permission to use the material on a given serial number a certain number of times, and somehow in my playing around I've exceeded that. But I did try to play the thing in an unconventional way, so let me restart:
I Autoplay the DVD ROM to bring up the menu, then click on 'Transfer Digital Copy':

In the box that pops up I click 'TRANSFER TO WINDOWS MEDIA PLAYER':

In the next box that pops up:

I enter the serial number and tick the licence agreement box, then click 'NEXT':

Okay, see the added line of text (once again, I've blanked out the serial number, not that it appears to be of much use to anyone)? It says: 'This asset has already been licensed.' Which I presume means, like the other one, that I've used up the total number of licensings allowed.
So how many licenses are allowed? If only one, then I suppose my first attempt, which led to the apparent wrong-country-denial, counted as an access. What if you want to load it onto both your computer and your iPod? I shall have to ask.
This continues my long tradition of coming unstuck on digital rights management.
Of course, discs sold in Australia should never come a-cropper with the wrong country thing in the first place.